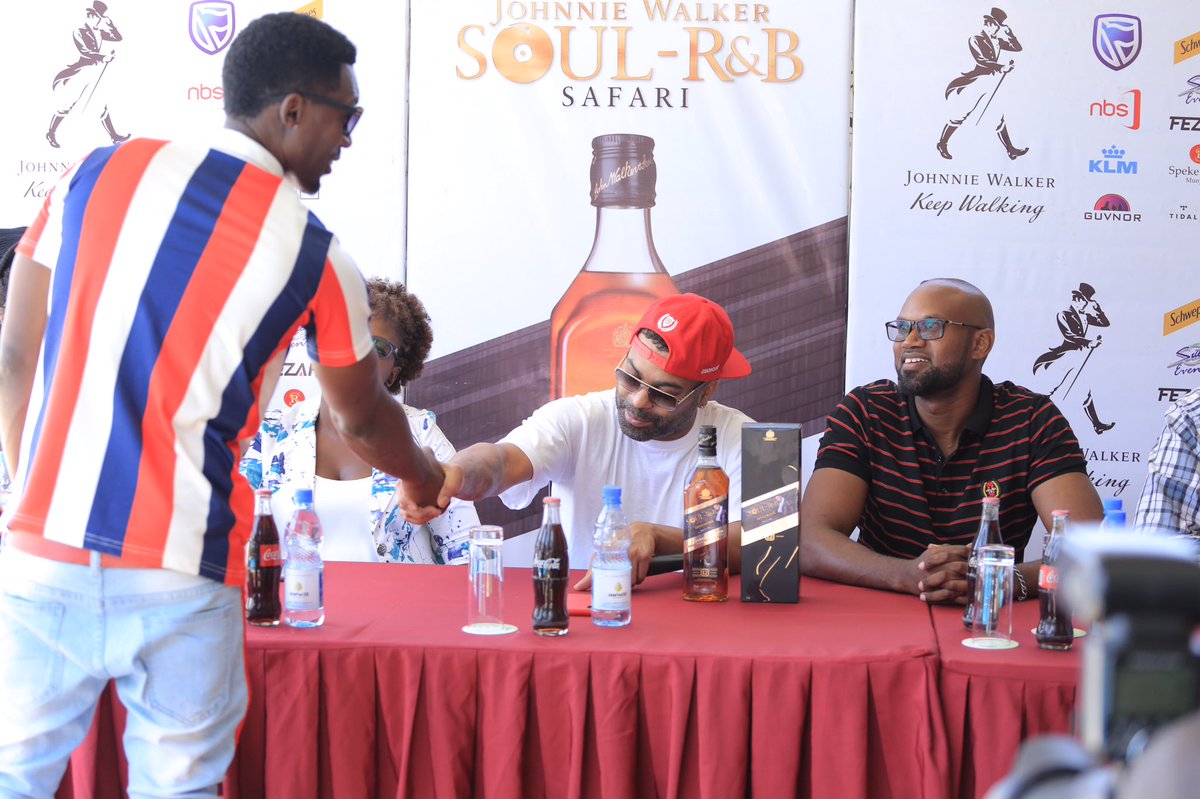 Michael Ross's bubble bursts at Ginuwine concert
In almost every movie, the black guy dies first, right? That is how the story went as Michael Ross Kakooza attempted to resurrect his music career at the Johnnie Walker Soul Safari Concert headlined by American RnB legend Ginuwine.
Michael Ross tries to dance with Ginuwine and gets mugged off stage like a phone thief.Cheii pic.twitter.com/leqE6Wdgo1

— Ian Nkera Ford (@InK_era35) December 2, 2018
After a few sips on the best whiskey in the multiverse, Ross thought it was time to shake the Johnnie Walker off. Maybe he was right only that he picked the wrong stage.No sooner had he stretched his arms to breakdance than the no-nonsense bouncers arrived.
They carried the faded musician shoulder high and tossed him down like he had dated one of the ex-girlfriends in an earlier life. Not even his idol Ginuwine could save Ross from the wrath of the bouncers despite rumours that the two had mooted a plan to do a hit song together.
On Friday, November 30, the duo was remanded to Luzira prison until December 10 by the Nakawa Chief Magistrate, Agnes Alum.
Lake Victoria boat wreckage pulled out, three bodies recovered
After a six-day joint operation by the Uganda People's Defence Forces (UPDF), the Uganda Police and local fishermen at Mutima Island, the wreckage of the sunken MV Templar that claimed over 30 lives on Lake Victoria was retrieved from the water.
MV Templar set sail from K.K beach for a party at Palm Beach on Mpatta island in Mukono district but due to overloading and mechanical errors, the boat capsized a few metres to Mutima Island where its Captian wanted to make an emergency dock.
According to official figures, 36 bodies have been recovered while 27 were rescued alive. It is however said that the boat was carrying over 120 revellers. It remains a mystery as to where the remaining 57 bodies are.
Bryan White: hero or mega-villain?
Hours after news of the boat cruise accident hit the media, Kampala Socialite, moneybag, and "philanthropist" Brian Kirumira alias Bryan White wore his army shoes and landed at Mutima Island with one mission – save as many dead people as he could and pull out MV Templar from the water using all means necessary.
White who is yet to show any water rescue experience immediately started ordering trained UPDF, Police and other technical marines around on top of giving a Shs100,000 reward to any diver that retrieved a dead body from the murky waters.
This caused a lot of anger among a section of Ugandans and attracted the attention of some Members of Parliament who queried what power the socialite had to begin ordering soldiers around yet he is a mere civilian.
A civilian cannot order soldiers around; MPs question Bryan White's role in retrieving bodies of L. Victoria accident victims
In his response, White advised the Kampala Central MP, Mohammad Nsereko and Co. to check into Butabika Hospital for a mental help saying that his presence at the beach was out of concern not "to get Facebook likes."
COSASE arrests Byagenda's bodyguard, aide for lying under oath
The Committee on Commissions, Statutory Authorities and State Enterprises (COSASE) probing of how Bank of Uganda sold off seven banks arrested Juliet Adikot and Job Turyahabwe, the bodyguard and driver of Former Director of Supervision for Commercial banks, Justine Bagyenda for telling lies while under oath.
Bagyenda's aide, driver arrested for telling lies to COSASE, driver pleads for mercy
The duo was grilled by the committee to narrate the movements but their accounts did not satisfy Committee Chairman, Hon Abdu Katuntu who handed them over to Police saying they were found to have lied about their movements with their on-the-run boss.
Burundi calls for EAC support towards free and fair elections
The Speaker of the Burundi National Assembly, Pascal Nyabenda has called on the East African Community partner states to support them in organising and having free and fair elections in 2020.
Nyabenda said that in May 2018, Burundians amended the constitution by referendum with the sole purpose of living in harmony.
"The new constitution favours peace, reconciliation and national unity; it harmonises some of its key provisions with those of the treaty for the establishment of the East African Community," he said.
The Speaker made these remarks at the opening of the 9th East African Inter-parliamentary Games in Bujumbura on December 1.
The games that kicked off on Sunday include football, netball, volleyball, athletics among golf, tug of war and walking race.
Burundi, Kenya, Tanzania, Uganda and the East African Legislative Assembly are taking part in this year's events.