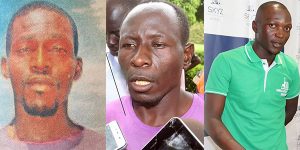 A lot has been said about the Saturday, November 24 accident on the waters of Lake Victoria in which a boat carrying 120 people sank killing 33.
Although 27 others have been rescued alive, little has been said about the men – mostly fishermen who braved the lake at dusk to save lives of the accident victims despite the meagre resources they had at their disposal.
George Onyango
George Onyango, 27, is a Kenyan although born in Uganda. He has been fishing in the waters around Mutima beach for eleven years now. From Buzindeere village where his main base is, Onyango says that he first encountered MV Templar – the sunken boat buzzing very loud music around where he was fishing.
"The music was not bad. I was actually dancing to it as I worked," he narrated but no sooner had he lifted his eyes off the boat than people started screaming.
Onyango noticed that the part of the boat was tilted as the boat started taking in water and submerging.
With his engine boat, he sailed near the boat and urged people to jump off and also summoned his colleagues who immediately swung into action. This, he says was around 7:30 pm.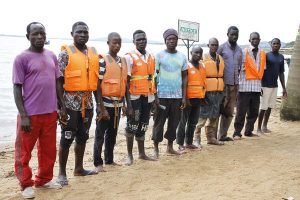 With his engine boat, he ferried some of the victims in groups of five to the shore and back to the water to fetch others as his colleagues tried to give them first aid such as mouth-to-mouth to resuscitate them as most had already swallowed gallons of water.
In an interview, he said he singlehandedly saved 20 people although three of them later died. These twenty included the Crown Prince of Buganda, David Kintu Wasajja.
Amuza Mulwana
Eyewitness accounts have it that the Uganda Police and the marine team from the Uganda People's Defense Forces (UPDF) arrived at the scene in Mukono at 1 am in the night – two hours after the fishermen had already retired from the rescue mission.
Mulwana, 33, was waiting to check on his cast nets for fish when he saw a light coming from the direction of Mutima beach but since his boat's engine had taken in a lot of water, it failed to start immediately.
"But I could not wait for it to start. I jumped on one of Abdul Nsubuga (another fisherman) and went to the water. When we reached, I realised so many people could not swim so I jumped in myself. I would dive and get people to them to the boat that would then proceed to the shore," he said.
Mulwana who has plied the waters for seven and half years said claims that he saved seven people.
"We saved people but some of them were so traumatized that would not talk. Some could not even remember their names or where they were. They were irrelevant questions such as, have you seen my phone?" he said.
Abdul Karim Nsubuga
At just 24 years, Nsubuga has made his mark as a speed junkie. If the boat was a car and the water was the road, Nsubuga would be in the Formula One cluster. His speed on the water came in handy on Saturday.
He gave his colleagues the much-needed urgency to ferry bodies and survivors to the shore at the time when the police and UPDF were nowhere to be seen. Although he witnessed his colleague, Bosco Owejo, helplessly drown, he did not lose the bigger picture of the other people he had on the boat.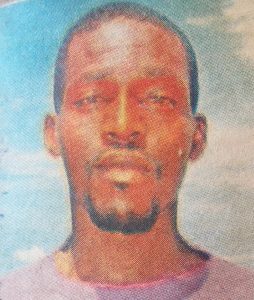 Bosco Owejo (RIP)
He had a heart of gold – a true martyr who sacrificed himself for others to live. When a call for help came in from Onyango, Owejo was one of the first respondents despite being ill-prepared. He neither had a life jacket nor any other safety gear.
As he swam to save victims who were at the time still alive, Owejo did not envision himself dying but when after gathering several survivors on the small engine boat and noticing that it was also bound to capsize due to excess weight, the fisherman sacrificed himself for the rest to reach the shore.
His energy, however, deserted him and he drowned moments later. His colleagues have described him as a man of courage whose example they will up to for the rest of their lives.
Brian Masole Kiggundu
Unlike the above mentioned, Masole is not a fisherman but a university student of Kampala International University (KIU) who together with his friends had hired a boat to take a weekend excursion on the water.
Born in 1995, on September 26, the Mass Communication student made a split decision that will forever be remembered in the lives of several people.
While sailing on a nearby island, Masole saw MV Templar capsize and he immediately sped his colleagues ashore and returned to save accident victims who included singer Irene Namubiru.
In her account of the incident, she used the torch on her phone to guide Masole to her location where Templar Bisaase's wife Sheila was also fighting for her life. She later died.
From her recollection, Namubiru reckons that Masoke made three trips back into the lake and returned with more survivors and until when there were no more people alive on the lake to save.
"He heard my distress calls for help as I saw other boats passing us by, saw the light of my phone that I kept waving up and came right to me. He asked me for the phone, bag and then pulled me in, the singer posted on her Facebook.
Well-wishers such as musician Fille, journalist Alan Kasujja have since mooted plans to contribute money to Masoke's tuition fees as a reward for his brevity and a lesson as the BBC Presenter put it that 'good deeds indeed pay.'
It also said that socialite Bryan White who has since Sunday camped at Mutima Islam has also given each of the fishermen involved in the rescue mission Shs100,000 for their efforts.