Earlier this week, socialite  Bryan White paid a visit to Kaga Nakawuka to check on the mother of fallen singer Radio. His visit came at the same time when rumours were circulating on social media that unknown people have been threatening to vandalise Radio's grave.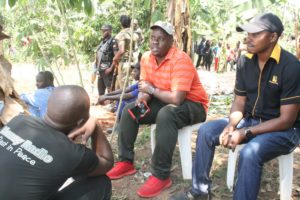 In a way to comfort the deceased's mum, Bryan White pledged to complete the singer's projects and also construct the grave.
News of Bryan White's involvement in the construction of the grave didn't go well with music promoter Balaam Barugahare who headed the burial arrangements of the late. Balaam has come out to clear the air and says Bryan shouldn't disrespect the president.
" I am only informing him that the head of state paid fully for the grave construction so no need for Bryan White to spend his money. His involvement will be like disrespecting the president," Balaam said in a brief interview with us.
It should be noted that the president paid major expenses for the deceased's burial and will reportedly pay the late's mother a visit in the near future.
Comments
comments