Yes, tomorrow is a public holiday. The country will be celebrating Liberation Day in commemoration of the Luweero bush war struggle that ushered a new dawn to Ugandan social, political and economic landscape. Well, the national celebrations will be held in Arua Municipality, constituency of outspoken MP Ibrahim Abiriga.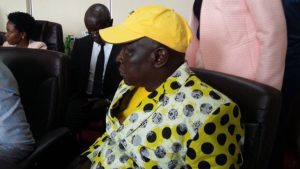 When asked about the preparations for the grand celebration where the president is expected to the chief guest, the MP complained. He stressed that the meat had been insufficient.
"Instead of buying cows for slaughtering, they are instead buying meat in kilos! Can you imagine?" He stated on NBS TV.
The MP stated that he expected several cows to be slaughtered.
According to Abiriga, he is not in-charge of the preparations so he had no much influence. The MP also bragged that the opposition have no say in his constituency after they defeated them several times in elections.
"Out of 18,000 votes, you find opposition getting only 400! Those people have no support here. There is nothing they are doing!"
Comments
comments