During a recent interview with NBS TV on Chat room show, singer Lilian Mbabazi said she hadn't met the father of her two children Mowzey Radio in a long time but the two were always in touch because of their children. Matooke Republic confirms that Radio's comatose condition has brought the two together again.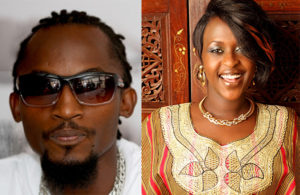 At Case Clinic where singer Radio is admitted critically ill and still in Intensive care Unit after her suffered near fatal injuries in a bar brawl, we found that its only Lilian Mbabazi, Radio's youngest sister and his mother that are allowed in the ward to nurse him.
Worried Lilian Mbabazi revealed to us that the singer is critically ill with no major improvement.
"Radio is still in bad condition, no one is supposed to see him apart from me and his immediate family. He was injured badly. He hasn't said any word to me yet. I only go to check on him and change bed sheets," Lilian said.
Meanwhile, when we contacted the Spokesperson of Uganda Emilian Kayima, he confirmed that two people have been arrested and are currently detained at Entebbe Police station over the incident.
"We arrested two people who are suspected to be in connection with the musician' beating. Mr George Egesa, the proprietor of De Bar and his friend Xavier Rukere have been arrested and are currently detained at Entebbe main police station where a case file number SD REF 85/22/01/2018 has been opened," he said.
Meanwhile Emma Carlos the promotions manager at Goodlyfe disputes allegations that Radio was involved in a fight with Weasel as earlier revealed by sources close to that singers.
Comments
comments