David Adedeji Adeleke better known as Davido caused a buzz not only across the African continent but the globe as well when he asked fans, well-wishers, colleagues, and acquaintances to donate to him money.
Davido told fans that he was trying to clear taxes for his latest acquisition, a state-of-the-art Rolls Royce.
The move was so game-changing that back home, artist Pallaso started his own challenge in a bid to raise Shs100 million to clear taxes for his Range Rover.
In a new plot twist, Davido is yet again the centre of media attention as he has donated his entire cash donation to orphanages across Nigeria.
Davido broke the news today on his social media platforms, Twitter and Instagram.
He notified the public 3 hours prior with a short Tweet, 'ANNOUNCEMENT 12 PM WAT (West African Time).
Three hours later, he posted images of his official statement captioned, 'We rise by lifting others.' He complemented his tweet with a heart emoji.
The statement dated Friday 19th, November announces, 'DONATION OF NGN 250,000,000 TO ORPHANAGES ACROSS NIGERIA.'
"I wish to express my sincere gratitude to my friends, colleagues, fans, and the public for the generous expressions of love in recent days. In my usual playful manner, I requested a few days ago that my friends and colleagues send money in celebration of my birthday. The response and outcome exceeded my expectations, as I received about NGN 200,000,000 in less than two days. I truly appreciate everyone who donated hard-earned funds and I am very thankful for your generosity," read the first paragraph.
In the second paragraph, he notes that he is passionate about giving back and helping people and it is on that note that he is donating the funds he received, NGN 200 million (Shs1.7 billion) to orphanages across Nigeria.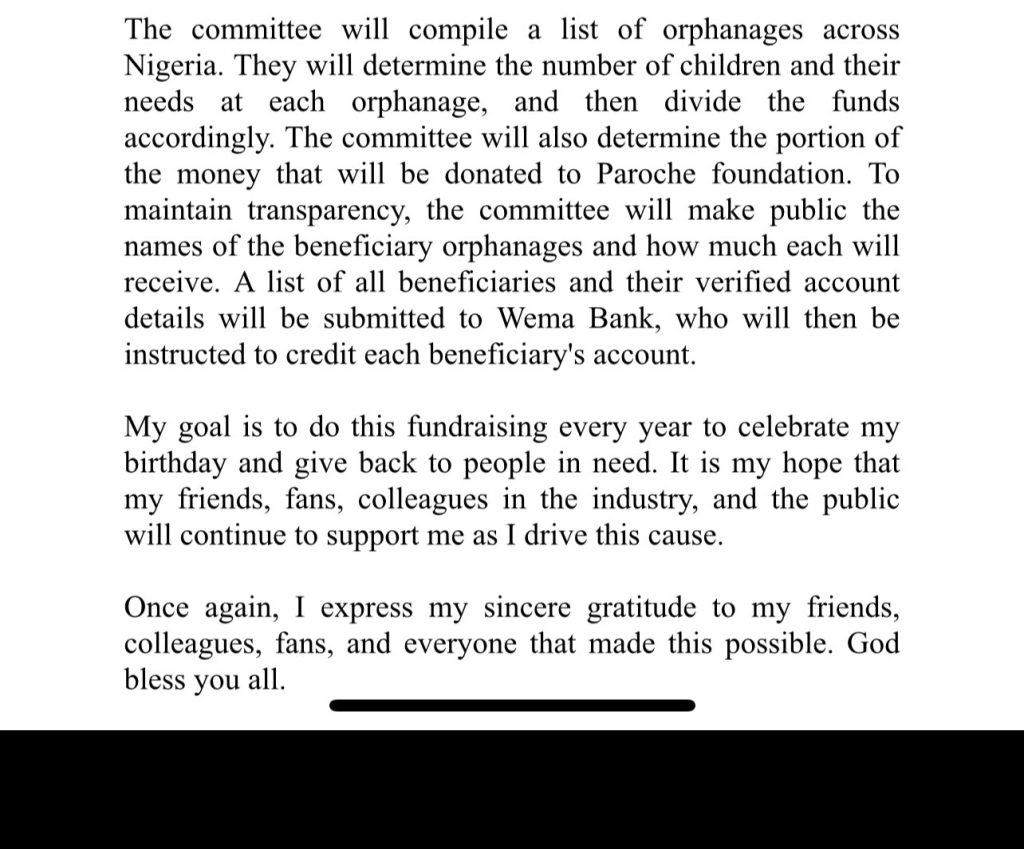 In addition, he revealed that he will be making a personal contribution of NGN 50 million (Shs500 million) to bring the total amount to NGN 250 million (Shs2.1 billion).
He further revealed a list of five prominent figures that will see that the entire donation drive is transparent.
He went on to further note that this fundraiser will continue each year on his birthday to reach out to more people in need.
Davido's fundraiser and gesture have been set a new blueprint for show business on the continent and we do hope artistes back in the 256 are not only observing but also taking notes.
Way to go Davido.