Ugandans on Twitter have through celebrated comedian Alex Muhangi urged Assistant Inspector General of Police and Chief Political Commissar of the force, Asan Kasingye, to make an appearance on the weekly live comedy show Comedy Store.
It is all the result of several Ugandan Tweeps (Ugandans on Twitter) urging Alex Muhangi to summon the AIGP whose humorous tweets they can't seem to get enough of. AIGP Kasingye has for sometime now won himself a big following on Twitter because of his humorous Tweeps that he delivers in form of posts and responses with incredible punchlines, and after a humorous post that went viral yesterday Ugandans on Twitter have been urging Comedy Store host Muhangi to bring in the Afande to co-host at least one week's edition with the comedian.
Today Muhangi today bowed to the pressure and delivered a public summons to the Afande to appear on Comedy Store (you've guessed right, Muhangi also delivered his summons via Twitter).
"Hello Afande Kasingye, due to public demand (including messages in my DM), you're hereby summoned to appear on our comedy Store UG stage for an audition for comedy. Failure to appear could jeopardize your talent," Muhangi Tweeted.
And trust Afande Kasingye to oblige when humour beckons.
"These are real orders from above. Sir, Yes, sir," Kasingye Tweeted back in response.
What remains to be seen now is when the good AIGP will make good on his promise to reply the Comedy Styore summons.
Perhaps important to note: AIGP Kasingye is among the few police bosses who are trying to change the image of the police. He recently attended the Uganda on Twitter night, a night organized by tweeps in the country.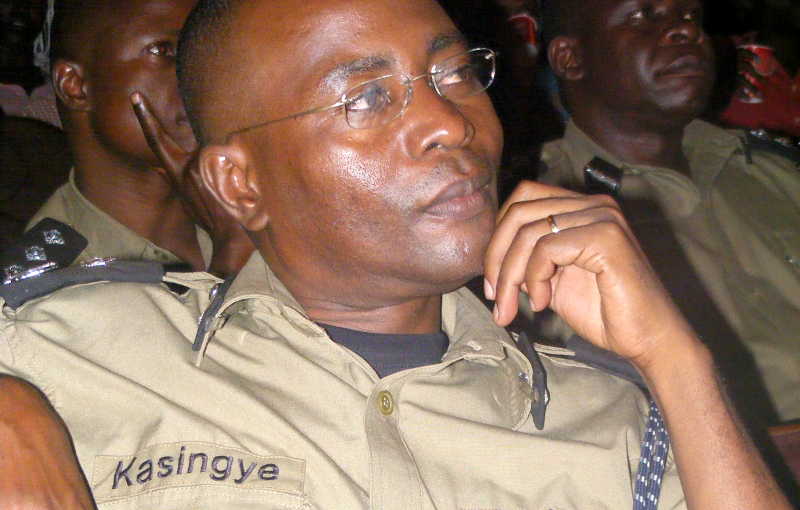 While the Assistant Inspector General of Police and Chief Political Commissar of the country's law-enforcing unit reiterates that he is not a comedian, he adds that at his age good laughter adds him more years. He is also of the view that sharing his light life experiences is sharing love with his twitter followers because he loves each one of them.
The public demand that compelled Muhangi to summon Afande Kasingye to Comedy Store was due to a Tweet that AIGP Kasingye posted yesterday,leaving everyone laughing. It went:
"I gave a young man a lift in my car. Sooner, the song on my car stereo blasted away " twazikoze , Zaweze. He became hysterical, increased the volume & danced like he was possessed by Lucifer. What surprised me., as he was disembarking. .Afande, mpayo ekizzike Biganye olwareero." Kasingye tweeted.