Government spokesperson Ofwono Opondo has revealed that President Museveni is the brain behind the recently-divulged plan of the NRM Central Executive Committee (CEC) to drop the secret ballot system of election and adopt lining up behind candidates in the party primaries for presidential and parliamentary candidates.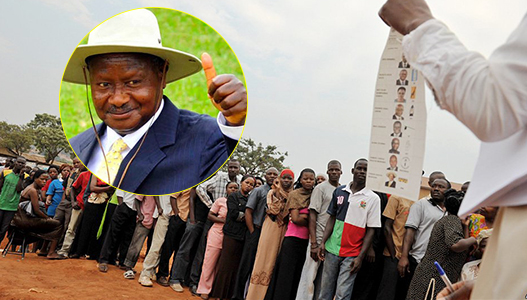 Speaking to the media, Opondo said yesterday that President suggested the lining up of voters behind candidates while the NRM CEC met at Chobe Safari Lodge last weekend.
" The proposal of lining up in an election was brought by Museveni after people told him that there wasn't so much friction in the the LC elections which were held under the same voting system.," Ofowno Opondo said.
Opondo added that Museveni convinced CEC about the merits of the lining-behind-candidates system by pointing out to them: how the system will
cut costs of organizing elections as the big money previously spent on printing ballots, buying transparent buckets, ink pads and basins will be done away with and only supervisors will have to be paid; how it will help do away with commercialization of elections and encourage transparency, as people who eat money from one candidate then vote against them in a secret ballot will now have to act transparently; among other merits.
The plan for the NRM party to conduct its primaries through lining behind candidates as opposed to secret ballot was divulged by NRM Spokesman Rogers Mulindwa as the party's CEC met at Chobe Safari Lodge over the weekend.