After the release of his new tune 'Salompasi', singer Big Eye has come under the microscope of critics. Several have bashed the efforts of the singer claiming that he is making music for kindergarten kids.
Well, Big Eye is not moved. He is instead taking pride in the criticism.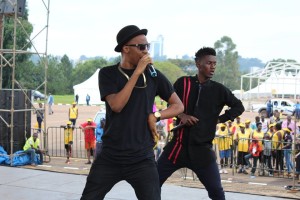 "I have heard some people coming out insulting SALOMPASI song as it is a nursery song but for your information its very fine with me b'coz thats the audience i want most than the adult who is about to DIE soon", part of his Facebook post read.
He further stated that it's a strategy for him to build a bigger fanbase.
"But these children are going to grow with my music meaning even in the next 100years plus i will be having fans. And on top of that its these children who make their parents love me because they love me to.No parent would not love what makes his child happy. I know this game thats why am still existing.How many have gone?? So don't hate", he concluded.
Comments
comments