Following stories making rounds on social media that some universities in Uganda are running expired courses, Victoria University has come out to re-assure current students and graduates that they are not running any expired academic programmes.
"This is to draw your attention to the above mentioned subject matter (alleged expired academic programmes), which has been making rounds on social media stating that universities in Uganda including Victoria University are running any expired academic programmes. We have contacted the National Council for Higher Education and established that the document being circulated is fake news and should be treated as such," a notice from the university's Academic Registrar to students dated May 22, reads.
"We are not running expired academic programmes at VU," the Academic Registrar reassured the students.
"The academic programmes at VU are always submitted on time to NCHE for re accreditation and meet the required standards.
The news of "expired degrees" made rounds after it was reported that the University of Bristol in the UK declined to admit an alumna of Makerere University, who had studied a Bachelor of Biomedical Laboratory Technology, to pursue an advanced degree.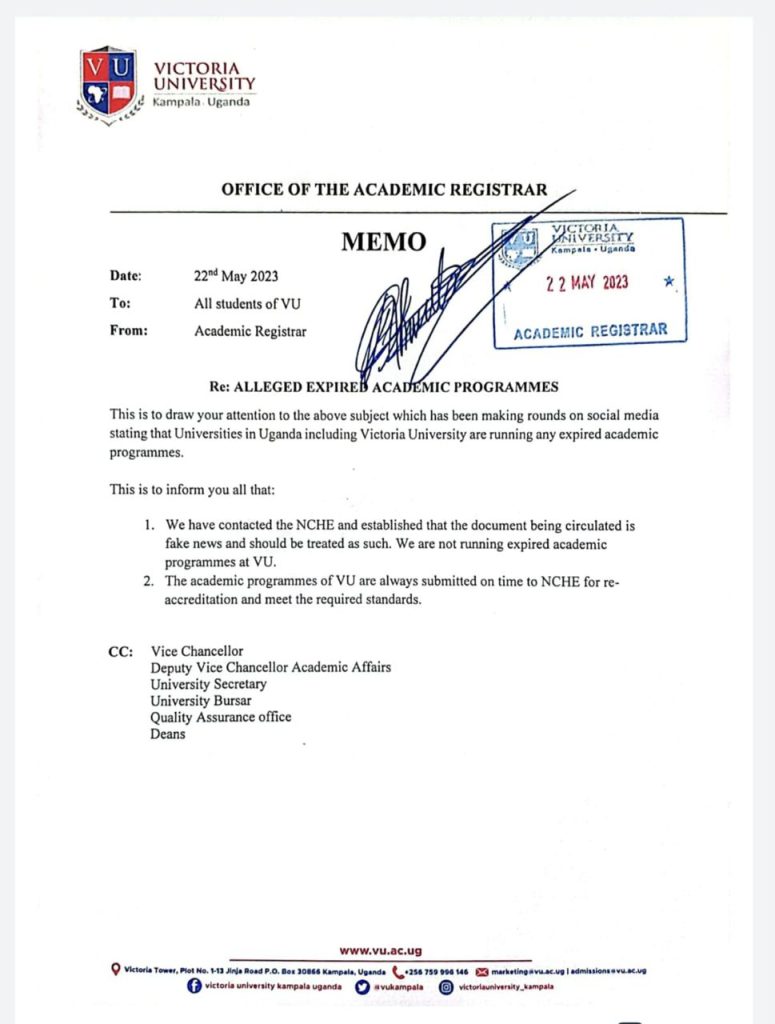 "We accept applicants with a Bachelor's degree from a Ugandan university with programme accreditation, we use the NHCE website … The entry for the Bachelor of Biomedical Laboratory for Makerere University indicates that this programme was accredited on March 26, 2010 to March 26, 2015 and it expired in 2015. As you graduated in 2018 after the programme accreditation expired, we are therefore unable to accept your qualification," Bristol University wrote to the unsuccessful applicant.
Following this development, fake news went viral on social media of several universities offering expired degrees. Victoria University has reassured students that they are not running any expired academic programmes and that all their programmes are accredited by the NCHE.
To confirm their credentials, Victoria University was granted a charter by NCHE in August 2022.
According to the Universities and other Tertiary Institutions Act, a charter is "granted by the president as evidence that the university meets the requirements and standards of academic excellence set by the NCHE."