Makerere University, Uganda's oldest public university, is currently facing a critical predicament that poses a significant risk to its reputation and the overall education system in the country.
A recent incident involving a graduate from Makerere University has shed light on the challenges faced by students who unknowingly pursued courses that have expired.
The graduate applied for a post-graduate study program at the University of Bristol in England but was rejected due to an 'expired' course, namely the Bachelor of Biomedical Laboratory Technology, completed at Makerere.
The rejection email highlighted that the accreditation for the program was valid from March 26, 2010, to March 26, 2015, with the expiration date falling before the graduate's graduation in 2018. This incident raises concerns about the credibility and value of degrees earned from Makerere University.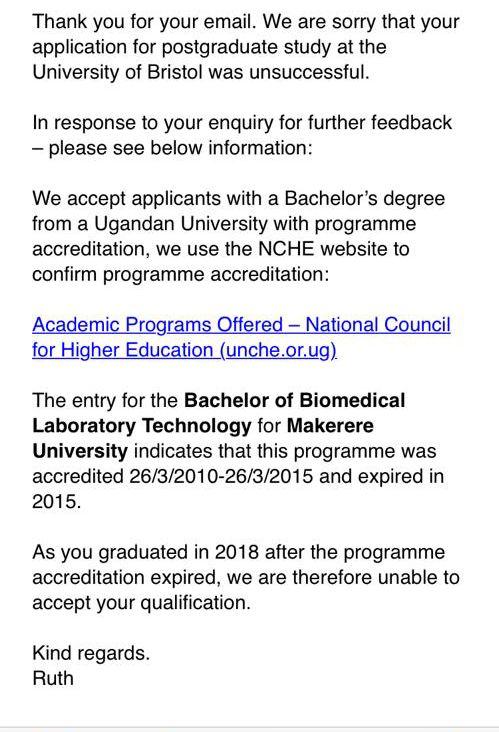 The teaching of expired courses not only raises questions about the quality of education provided but also poses a significant threat to Uganda's higher education system and its future prospects.
A one Don SM Kafeero said, A consequence, of among other things, lack of leadership at the Education Ministry. The First Lady Janet Museveni should relinquish the Edu gig in the public interest. The clowns under her including those running Makerere and NCHE know they have job security by just calling her Mama!"
"It appears from 2016, Makerere never sought approval for many courses including Law. So if u got your degree from Makerere after 2016, take note that your degree is invalid as the Course Expired by that time. Hope we get an explanation from Makerere," said Ferdinand.
Meanwhile, according to Campus Bee, Prof. Umar Kakumba, the Vice Chancellor for Academic Affairs, stated that the Academic Registrar's office has been collaborating with the National Council of Higher Education (NCHE) to address program anomalies.
The NCHE is responsible for accrediting and licensing all institutions of higher learning in Uganda, as well as their respective academic programs.
The NCHE has reported that Makerere University currently has 155 expired courses (see list), while Kyambogo University has 199 (see list) expired courses, further emphasizing the scale of the issue that needs to be addressed.