The president of the Uganda Medical Association (UMA), Dr. Samuel Odongo Oledo, assembled a group of about 50 medical professionals over the weekend to thank President Museveni for his "visionary leadership."
Social media users and some members of UMA were outraged by the act of medical professionals kneeling before President Yoweri Museveni and pleading with him to run for office again in 2026.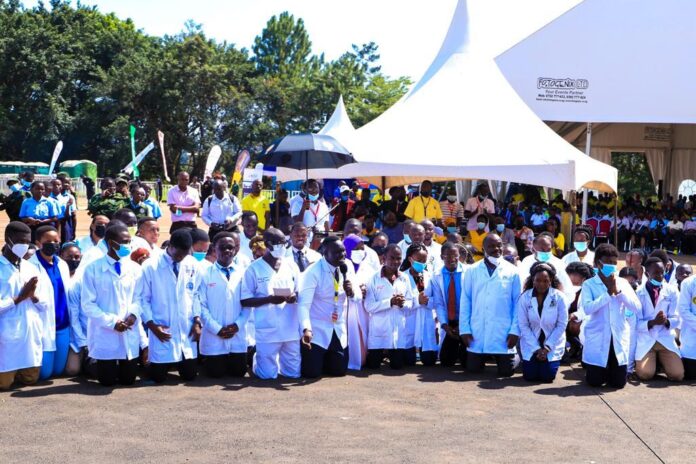 According to reports, some UMA members have drafted a motion to censure Dr. Samuel Odongo Oledo.
The section claims that Dr. Oledo is unfit to lead them and that his conduct is a disgrace to their body.
"Uganda Medical Association has always engaged with the President Museveni through formal, professional ways including appreciating him through our Annual Awards. The act of kneeling by Dr Oledo and the team doesn't represent Modus Operandi of the Association," they said.
Who is Dr. Oledo?
Dr. Oledo studied Bachelor of Medicine and Surgery. He previously served as the chair of welfare at UMA. He has Master's degree in Public Health and General Surgery all obtained from Kampala International University.
He also worked from 2018 up to 2020 as the chair of senior house officers in the Association of Surgeons in Uganda.
Dr. Oledo is also a former aspirant for the ruling National Resistance Movement Central Executive Committee regional vice chairperson, northern.
Dr. Oledo was elected the UMA president last year in November. He took over from Dr. Richard Idro, a senior paediatric neurologist and lecturer at Makerere University.