Ten students from various secondary schools walked away with cash, certificates, and other goodies from the United Bank for Africa (UBA) National Essay Competition prize giveaway ceremony this afternoon.
The competition, launched by UBA Uganda in August this year, targeted senior secondary school students in Uganda. The competition aims at challenging students to write on different engaging topics to test their writing and cognitive skills.
According to the competition judges led by Joel Isabirye, a lecturer from Kampala International University (KIU), 300 essays were submitted from the different schools in Uganda.
He noted that overall, students exhibited high standards of writing given they had only two weeks to submit their work.
All the top 10 students were present at the Grand Finale of the competition, held at the UBA head offices in Kampala.
Amumpaire Hanah Terisah from Ndejje Senior Secondary School was declared the winner. While delivering her remarks, she said that this was her first time participating in a writing competition.
She thanked her parents, teachers, and fellow students for guiding her to the top.
Jonathan Kimara from Bishop Cipriano Kihangire and Odeke Richard Ekituno from Jinja College were the first and second runners up respectively.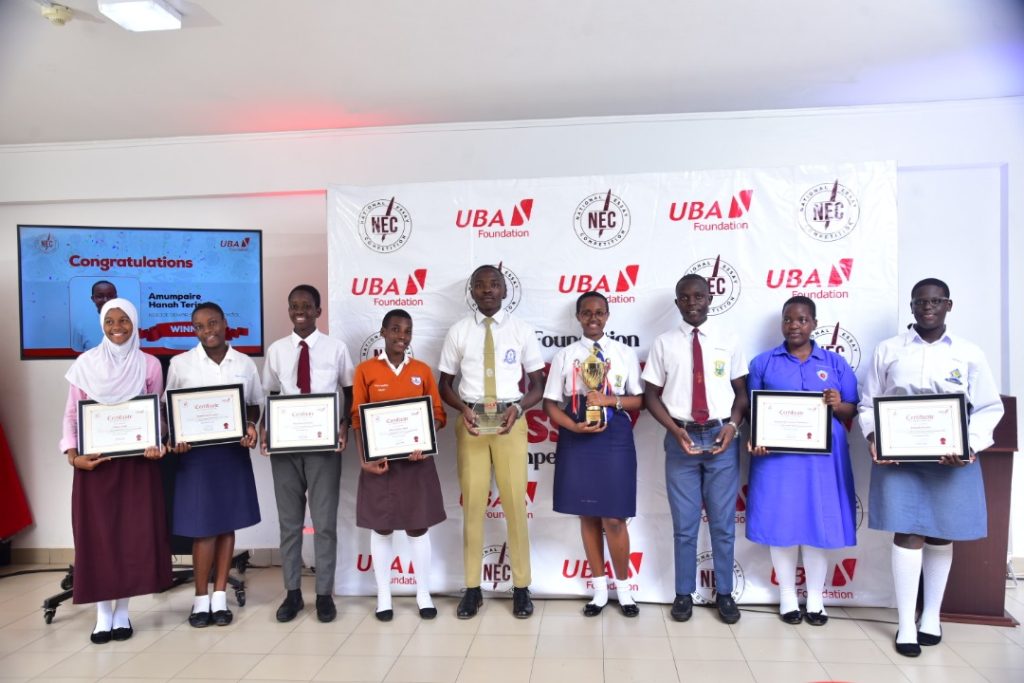 Others in the top 10 were Halima Saidi (Mbogo High School), Nabadda Kevina (Seeta High School), Manzi Kabuchu (World of Life International School), Nabagemba Swabura Namukasa (Lubiri Secondary School), Nuweampiire Anati (Kyebambe Girls SS), Namara Immaculate (Bwenanyangi Girls), and Samatha Mirembe Isabella (St Mary's College Namagunga).
Amumpaire, who is the winner, was awarded a laptop, a cash prize of $10000 (about Shs3.5 million), and a certificate. The two runners-up were given laptops and certificates, while the others in the top 10 were also given certificates.
Chioma Mang, the UBA Uganda Managing Director/CEO, applauded the students for being courageous enough to take part in the competition.
She said that all the 300 students that submitted their essays are winners and should be proud of themselves.
Chioma Mang also noted that the competition will be held as long as UBA is still operating in Uganda.