One of Uganda's stubbornest opposition politicians, Francis Zaake, has finally given in to love. His photos of proposing to his long-time girlfriend, Nnamirembe Bridget, have since gone viral on the internet.
According to Zaake, the two love birds met during his Guild presidential campaigns while he was still at university.
Zaake took to social media to narrate how the two met; "7 years ago, I ran my very final campaign for the Guild rally. The vibe was high, ululations & chants conquered the atmosphere. A charming lady named Nnamirembe Bridget braved through the crowds & approached me to act as my first lady. In later years, what was staged turned out real. "
Zaake went ahead to thank Bridget for standing by him during his troubles during the various political fiascos he has been involved in over the period of time they have been dating.
He Tweeted, "Through trials and tribulations, You stayed, Chose me over comfort, By hospital beds you always are, Your life you've risked, For just my love, YES is your answer to all this, For eternity you and I shall be ONE."
He also added a poem to express his love for his wife to be.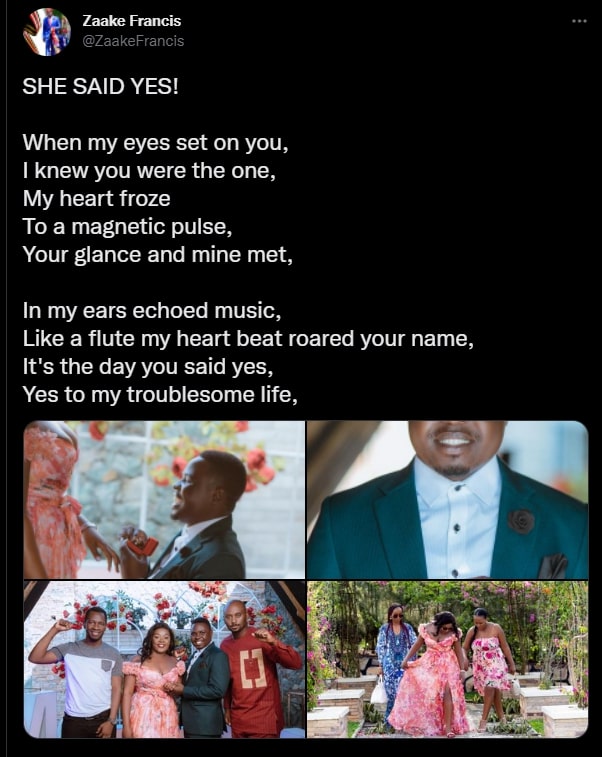 Here are some of the photos of how Zaake and Bridget Nnamirembe's proposal went down;