UPDF deserter tries to steal gun from police officer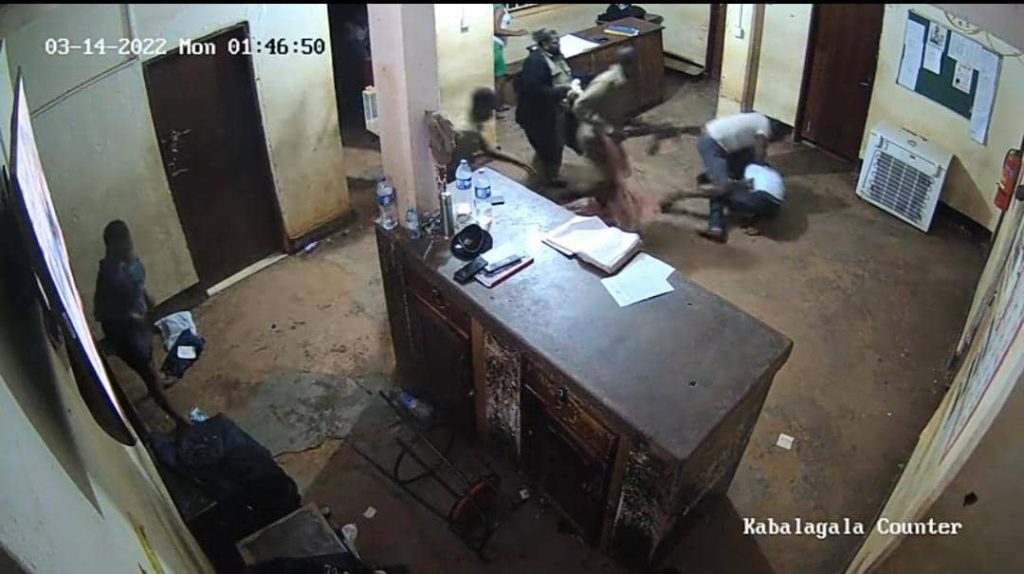 On Tuesday, police shared CCTV footage of the man who tried to steal a gun from Police Constable Bamwesigye Junior at Kabalagala Police Station.
According to Police, the suspect is Hussein Kakonge, 46, a guard with Security 2000 located in Muyenga.
Police say that Kakonge introduced himself to officers at Kabalagala Police Station as a guard and he claimed that he was stranded after his bosses evicted him out of the house. It's on such grounds that the officers allowed him to spend a night at the station.
To their surprise, Kakonge woke up at night around 1 am and attempted to disarm an officer at the counter.
He started using a helmet to assault PC Bamwesigye and later tried to disarm him of his gun. The officer put up resistance until other officers, who were nearby, came and subdued the suspect. Kakonge was immediately arrested.
Doctors' salaries doubled, teachers to earn up to Shs10m in new salary revisions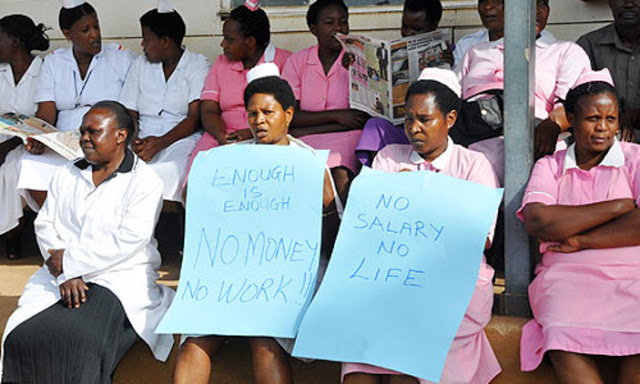 New salary increments in the budget framework are stirring up excitement and receiving major endorsements from teachers, judges, and medical practitioners.
If the proposals get the nod of approval, all medical workers will receive a 100% pay raise.
According to a list made available to The Observer newspaper, a senior medical consultant shall earn Shs17,400,000, up from Shs7,300,000.
A medical consultant's paycheque will bulge to Shs12,700,000, up from Shs6,000,000, and a principal medical officer will earn Shs8,000,000, up from Shs4,500,000.
An enrolled nurse will earn Shs1,300,000, up from Shs613,000.
Primary headteachers, according to the new proposals, will earn Shs4,800,000, up from Shs980,000, and secondary head teachers' pay will climb to Shs10,000,000, up from Shs2,300,000. Grade III primary teachers will earn about Shs 1.3 million, up from Shs 568,000.
For the already highly paid judicial officers, the registrar of the courts of judicature will earn Shs18,500,000, up from Shs10,500,000, chief magistrates will get Shs14,000,000, up from Shs7,500,000; and the solicitor general will now earn Shs20,000,000, up from Shs15.4 million. The state attorney is the least paid judicial officer in the country. He or she earns Shs 1,258,000.
The permanent secretaries' pay is expected to climb to Shs20,000,000 from Shs15.4 million, directors will earn Shs17.4 million, up from Shs2.3 million, chief administrative officers will pocket Shs17.4 million, up from Shs 3.6 million and police constables will earn Shs1,350,000, up from Shs497,000.
Museveni reshuffles senior army chiefs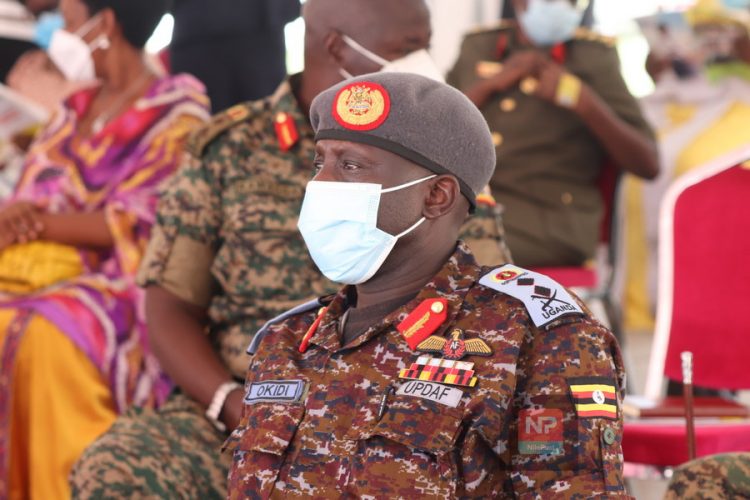 Commander in Chief of the Armed Forces, President Yoweri Museveni has made several reshuffles in the senior army leadership.
In the new appointments, Maj Gen Charles Okidi is the new Air Force, Deputy Commander.
Maj Gen Okidi has been serving as the army's Air Force Chief of Staff, where he has served since his appointment in 2019.
Brig David Agonyi has been appointed to replace Maj Gen Okidi as the air force Chief of Staff.
Col Abdul Rugumayo has been appointed as the Deputy Commander Chieftaincy of Military Intelligence (CMI).
"Kikoni Sure" app excites users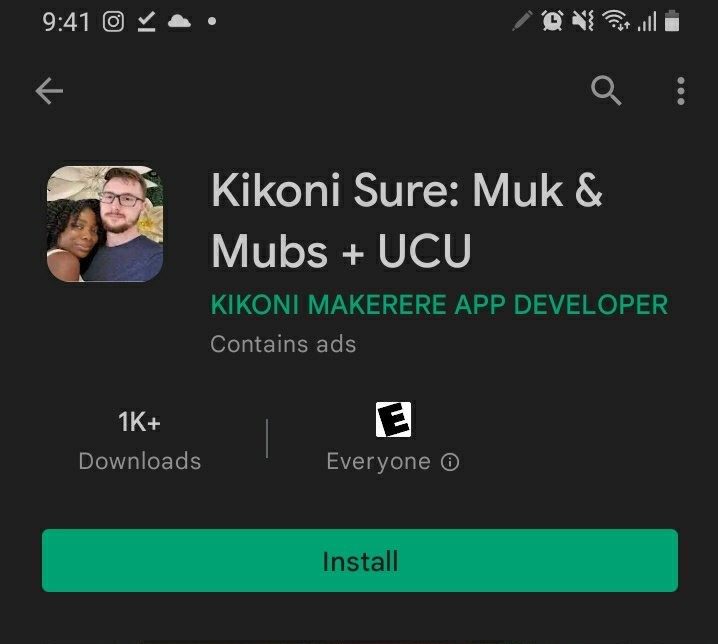 Earlier this week, the internet was stirred after news surfaced that students at Makerere University had created an app dubbed "Kikoni Sure" where students from Makerere, MUBS, and UCU meet up and exchange contacts over the app.
However, the app continues to raise the bar as far as the hunt for the forbidden fruit is concerned, as over 10,000 users downloaded the app, a day after its inception. This is based on the download figures displayed beside the app on the Google Play store.
Created by a username on Google Play named "Kikoni Makerere App Developer," the app is suspected to bridge the gap between campus students and potential clients in matters of body and soul. The app has profiles of students, their hostels, and contacts. It also enables a live chat for those online on the app.
The app has since excited Ugandans, with most worried about the loosening moral fabric of today's generation of youth.
Pallaso unapologetic about charging Shs8m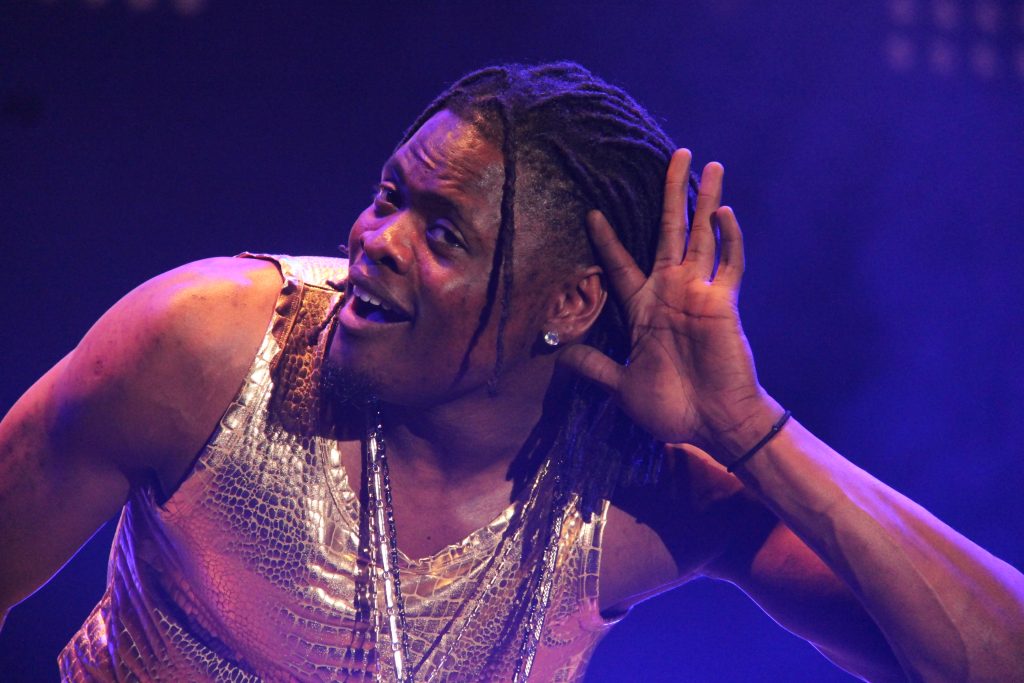 When this website contacted Pallaso for a comment about his charges, the singer, who is currently on a country tour, said that Ugandan promoters milk too much from singers, not considering that they put in a lot of time in the studio to come up with hit songs.
He advises promoters who think that he is not worth the Shs8m he charges for a concert to either bring foreign artists from Nigeria or other countries at Shs30M or let him work harder so that he can become worth it.