Businessman Peter Kamya has been unsuccessful in seeking presidential intervention over Equity Bank's sale of his prime properties including Simbamanyo House and Afrique Suites.
Kamya wrote to Museveni seeking to have the head of state intervene and reverse the sale of his properties. However, Museveni has responded to Kamya, telling him to seek court redress.
However, it is a conundrum as the court process has been concluded and it is not in his favour. Kamya had already sought court intervention to reverse the sale of his Simbamanyo House to property tycoon Sudhir Ruparelia and Afrique Suites to Luwaluwa Investements.
Kamya lost the case in the Commercial Court and also lost the Appeal. Court has also ordered him to pay a sum of Shs1.3bn to Equity Bank, Sudhir's Meera Investments and Luwaluwa Investments as legal costs of the suit.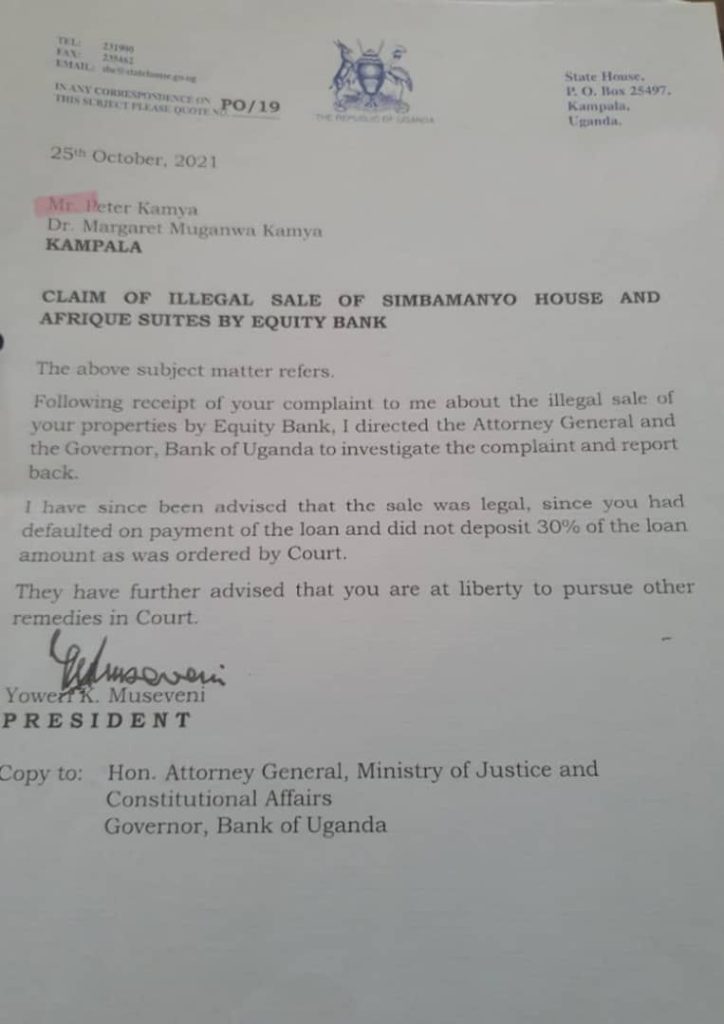 In Museveni's letter to Kamya dated 25th October 2021, copied to the Attorney General, Ministry of Justice and Constitutional Affairs and the Governor, Bank Uganda, the President states that after directing an investigation and getting the report back, he found the sale legal.
"Following the receipt of your complaint to me about the illegal sale of your properties by Equity Bank, I directed the Attorney General and the Governor, bank of Uganda to investigate the complaint and report back."
"I have since been advised that the sale was legal, since you had defaulted on the payment of the loan and did not deposit 30% of the loan amount as was ordered by Court," the President said, adding:
"They have further advised that you are at liberty to pursue other remedies in court."
Kamya told the New Vision in a Saturday interview that his issue was the process of the sale of his properties.
"My issue was not the sale of my property, but the process the bank took to sell them. It didn't sell them according to the mortgage law. They should have given me the option of getting a buyer at a fair price," Kamya said, adding that he intended to meet the President again and explain his side of the story.
Sudhir has since renamed Simbamanyo House that is located on Lumumba Avenue Gender & Labour House.