Social media went wild yesterday after news broke that Victoria University had ppointed socialite Bad Black real name Shanita Namuyimbwa as the new brand ambassador. A section from the public castigated the move wondering why a recognized learning institution zeroed on a school dropout and a confessed prostitute. The university has come out to clarify that Bad Black is a student, undertaking two short courses.
"Ms Shanitah Namuyimbwa came to Victoria University with an overwhelming desire to better herself and become a decent contributing member of society and a role model to her children," VU Vice Chancellor Dr. Lawrence Muganga said in a press conference this morning.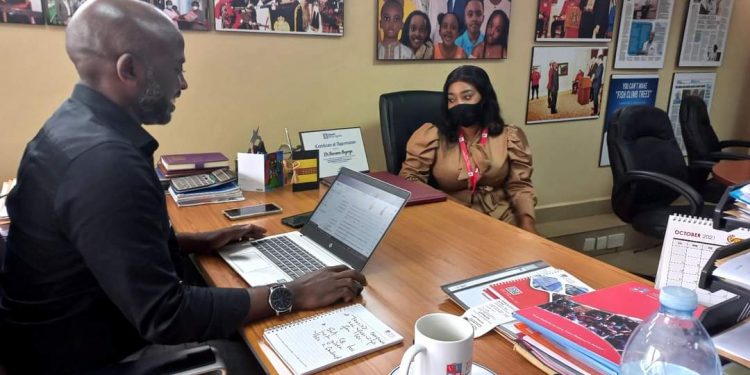 He said Bad Black is one of their new students intending to pursue a course in digital marketing and the English language.
"As Victoria University, like many institutions of higher learning in this country, we are not discriminative when it comes to educating people, we cannot even afford to judge anyone because of their past inequities," Muganga said.
"Ms Shanitah has a gal of becoming a fluent English speaker and digital marketing guruand that's how Victoria University comes in to help her like any other Ugandan to realize such an incredible dream and becoming a decent contributing member of society," Muganga added.
Muganga also clarified that Bad Black had not been hired as the university ambassador and had not been paid any money.
"It is important to note that all Victoria University students and alumni community are our ambassadors, therefore since Ms Shanitah Namuyimbwa is our student, she automatically becomes a Victoria University Student Ambassador.
Muganga also reiterated that Victoria University is welcoming to all Ugandans despite their grades.
"At Victoria University, we say that no one should be categorized as a failure by an exam, we believe that education systems are the culprits here and fail to understand the potential of students," he said.
Muganga says that while most Universities consider two principle passes as entry requirements, anyone with one principle pass or two subsidiaries can pursue a Higher Education Certificate, which has been approved by the National Council for Higher Education as a bridge to University.
"You don't need to repeat S.6, through this HEC Programme, we will prepare you to achieve a degree of your choice," he said.