Controversial city lawyer, Male Mabirizi has threatened to withdraw all his pending cases in the local courts and the East African Court of Justice.
According to Mabirizi, Ugandans who claim to be advocates for rule of law have continously refused to financially contribute to the cases.
"What if I sign to withdraw all these cases pending in East African Court of Justice and more in Uganda courts, to which after several fundraising calls and adverts, most you have not contributed anything, making me travel to Arusha by bus, etc..Would you come here and make allegations against me?" Mabirizi tweeted.
One of the tweeps reacted urging Mabirizi to join National Unity Platform (NUP) to be able to get the funding.
Mabirizi hit back saying; "So which case has NUP filed about General Rule of law? They even failed to prosecute Bobi Wine election petition. NUP seems to have no interest in general rule of law, their concern is personal benefits…that's why all they do is bail."
Only in the East African Court of Justice, Mabirizi has 22 pending cases.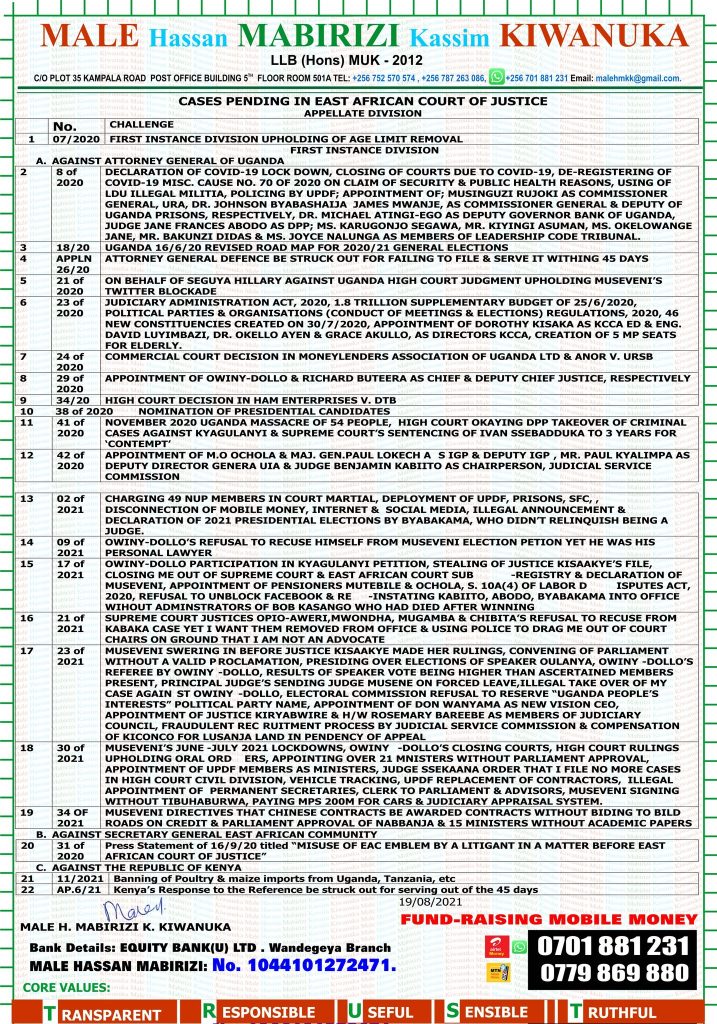 The maverick lawyer has been involved in various controversial cases, from suing the Kabaka, challenging President Museveni's candidature to questioning Robert Kyagulanyi's academic documents.