Police has arrested seven suspects in connection with dealing in suspected stolen UMEME items following a well-coordinated raid by Directorate of Crime Intelligence on major metal business locations in Kayiwa Zone.
This followed complaints of vandalism and sabotage on the transmission lines of electricity in Kiboga District.
According to the Police spokesperson Fred Enanga, their task teams established that criminals climbed the electricity transmission lines and cut the transmission lines, stole surge arrests, polymeric insulators, reel insulators and other electric gadgets, thus disrupting supply of electricity in Kiboga.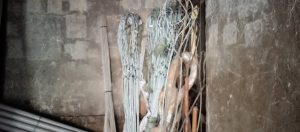 "Our intelligence teams tracked down the suspects up to Kayiwa zone in Rubaga and recovered an assortment of electric gadgets, metals and cable wires, worth Shs3 billion. Among those exhibited are 1460 pieces of 50mm bi-metal clamps, 3480 pieces of reel insulators, 840 pieces of polymeric insulators, 5646 pieces of 60mm PG clamps, 510 surge arresters among others. Over 80 different categories of exhibits were recovered," said Enanga.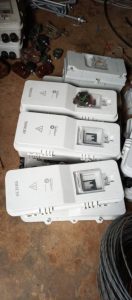 The arrested seven suspects include; Semaganda Ronald, Matovu Abdul, Musoke Lawrence, Obadiah Matovu, Turyatemba Ashraf, Niwamanya Michael and MuJiri Martin.
"We would like to encourage all businesses that are dealing in scrap metal, to streamline their work methods and deal in genuine transactions. The utility company should also adopt wider measures to counter such thefts like target harden, better wire and equipment protection," he said.
The suspects are to be charged with being in possession of suspected stolen items, malicious damage, theft and related conspiracies.