Regime apologist Pastor Mondo Franklin Mugisha has fled the country to South Africa after allegedly receiving death threats.
According to the phone call chat shared by the ruling NRM 'scouting agent' Balaam Barugahara Ateenyi, Mondo seems to be living in fear for his life hence the decision to fly out.
Balaam says that for the past weeks he has been trying to reach out to Mondo to know the progress of the assignments that were given to him and his group by President Yoweri Museveni during the campaign periods.
Balaam however reveals that he could not trace Mondo's whereabouts until he took on his social media and asked his followers if anyone knew where the pastor was.
A day later, Mondo called Balaam disclosing why he had run out of the country.
"My brother I'm on the run, I can't be around. My life is in danger I have sent you information regarding my life," Mondo told Balaam.
Mondo revealed how he had been approached by three strange men who asked him to publically lie that him and jailed Pastor Siraje Semanda had given part of the frauded Shs4 billion to Operation Wealth Creation's Gen Charles Angina.
The pastor says he was given an ultimatum of 24 hours or else he would get killed.
"I could not lie about an innocent man. I decided to run," Mondo said.
Mondo later posted a picture of himself in a plane and captioned it saying "God guide me."
Mondo also wrote a letter to State House Anti-Corruption unit informing it of the injustice within it and how the unit has tried every possible way to get him charged with more cases without evidence.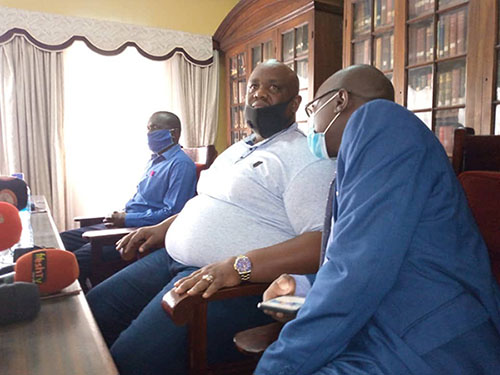 "However now that court never remanded me, my enemies want me arrested over thumped up charges, is that justice? This is intended to malign me and injure my reputation before society" part of the letter reads.
"I was arrested together with Dr Hillary Kisanja, Harriet Kusasira who were NRM mobilizers just like me. They have since found their way out of this cases, charges been dropped against them while poor me I'm being persecuted," he adds.
In November 2020, Mondo and Kusasira were summoned by State House Anti-Corruption Unit over allegations of defrauding Shs4 billion.
They were accused of conniving with Pastor Siraje Semanda of Revival Ministries Church Bombo who was arrested from Mutukula border while trying to escape to Tanzania.