The Ministry of Health has today confirmed 94 new COVID-19 cases taking the total of confirmed COVID-19 cases In Uganda to 1,750.
Amongst the 94 new COVID-19 cases; 53 are alerts (51 from Kampala Metropolitan area and two from Buvuma and Wakiso), 33 are contacts of the previous confirmed cases (21 from Kampala, six from Nakaseke, three from Wakiso, two from Adjumani and one from Koboko), seven are truck drivers while one is a returnee from Kenya.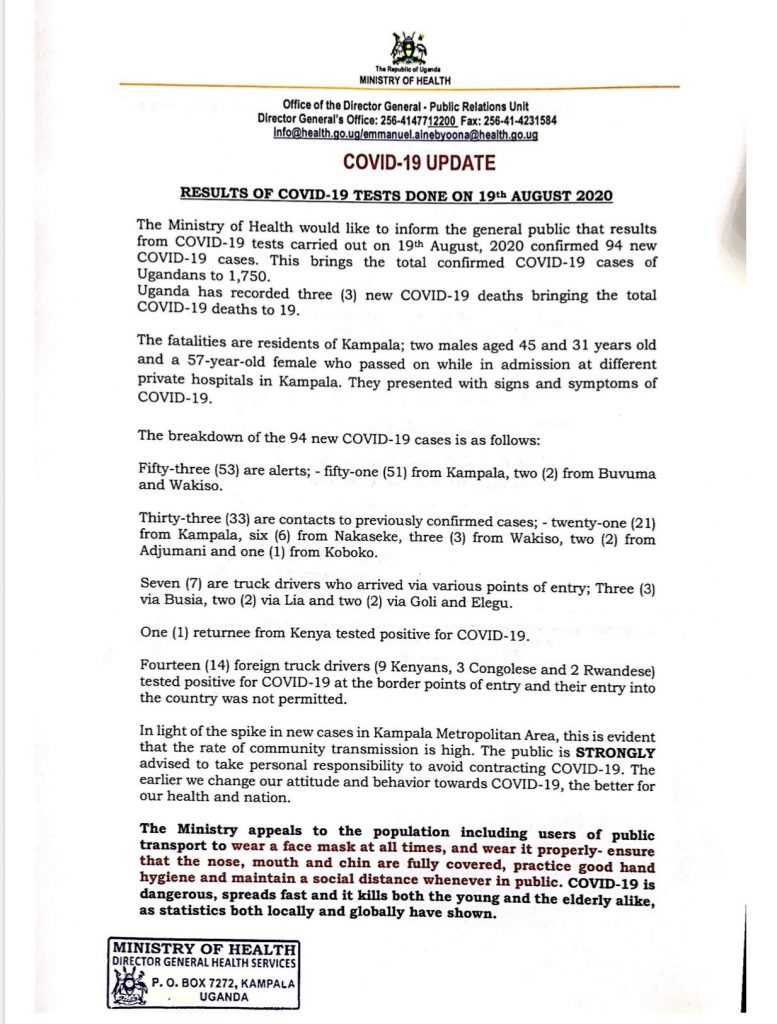 Uganda also recorded three new COVID-19 deaths bringing the total COVID-19 deaths to 19. The fatalities are residents of Kampala; two males aged 45 and 31 year olds and a 57-year old female who passed on while on admission at different private hospitals in Kampala.
Uganda has also registered an increase in the total accumulative recoveries as they now stand at 1,194.
The health ministry has warned against the spike in the community transmission in Kampala.
"The public is strongly advised to take personal responsibility to avoid contracting COVID-19. The earlier we change our attitude and behavior against COVID-19, the better for our heath and nation," says Health Ministry.
It has urged the population to adhere to the set Standard Operating Procedures.