Vision Group, the publishers of New Vision and Bukedde newspapers has decided to lay off some of its staff due to the impact of the coronavirus (COVID-19).
In an email seen by Matooke Republic, Robert Kabushenga, CEO of Vision Group wrote to all staff informing them of how the company has experienced significant challenges during these COVID-19 times.
Kabushenga revealed that due to such challenges, a board meeting was held and it rendered various jobs redundant.
"In response to the changed media circumstances, the company has been forced to rationalize its operations and change its ways of working. As a result, a number of jobs and roles have been rendered redundant," reads the email in part.
It adds, "For this reason, the board at its meeting on June 25, decided to terminate the services of those whose jobs have been affected in this manner."
The email further says those affected will be informed by their respective department heads.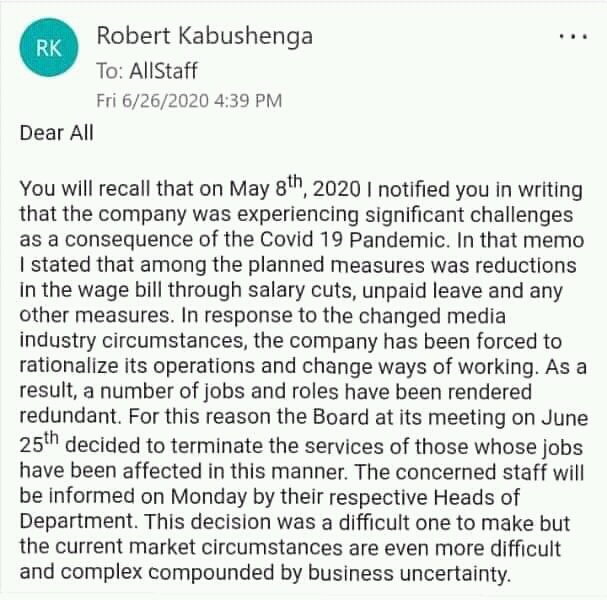 In April this year, Vision Group announced a 60% pay cut of its staff. However, the 60% was to be cut from those earning above Shs19 million. Those earning between Shs8m and 19m took a 45% cut. Those earning below Shs8m took a 40% salary cut.
A lot of companies are cutting down their costs by laying off staff, cutting pay to ensure they survive the COVID-19 crisis. Vision Group also runs TV West, Radio West, XFM, Kampala Sun, Bukedde TV, and Urban TV.