Nearly two weeks ago, the first Coronavirus (COVID-19) case in Africa was confirmed in Egypt when a passenger tested positive after landing at Cairo Internal Egypt. The Egyptian authorities took care of the situation and news reaching us is that the patient subsequently recovered.
Yesterday in West Africa, Nigeria confirmed the first case of the same epidemic, as an Italian national who works in Nigerian but had flown away to Milan, Italy, came back only to test positive for coronavirus.
Nigerian health ministry released the statement confirming the news, and said that the patient has been duly put under close monitoring at the Infectious Disease Hospital in Yaba, Lagos, to make sure it is contained.
Nigeria's Coronavirus case is the first confirmed COVID-19 case in Sub-Saharan Africa as infections from the deadly virus continue to rise all over the world, claiming lives of thousands, mostly in China where the outbreak was first reported in January 2020.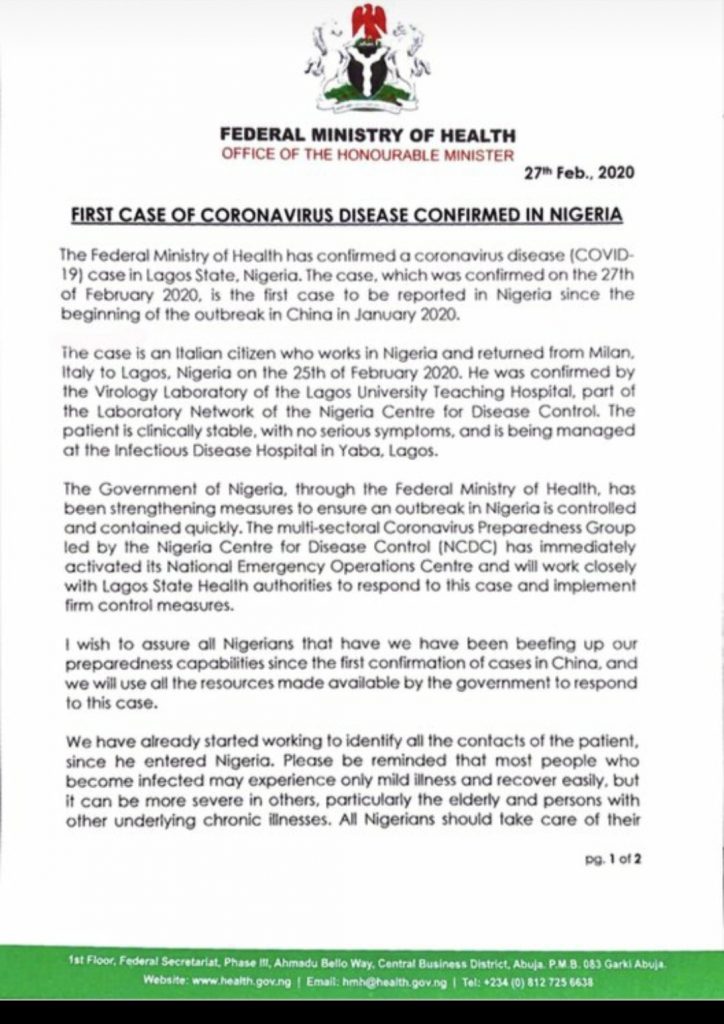 The Ministry of Health in Uganda has already sounded alarms and provided information on how best to protect ourselves from the virus, as well as boosting screening facilities at Entebbe International Airport.
The World Health Organisation (WHO) now says the Coronavirus outbreak has reached a 'decisive point' and has 'pandemic potential.'