Early today, an accident happened around Nakawa market and Ritah Nabukenya, a mobiliser in the People Power camp sustained serious injuries during the incident.
Nabukenya was rushed to Mulago Hospital where she was later announced dead.
Immediately, through his social media platforms, leader of the youthful pressure group, Hon Robert Kyagulanyi alias Bobi Wine put up a post claiming how Police intentionally knocked dead Nabukenya.
"Very sad day! Yet again, a leader of the People Power Movement has been murdered by the Museveni regime. Police officers in a patrol vehicle saw comrade Rita Nabukenya donning our attire drove after her and knocked her dead in broad daylight," reads Bobi Wine's statement as he added, "We must end this regime of blood."
This evening, Kampala Metropolitan Police has also issued a statement about the same incident. Unlike Bobi Wine's narration that it is the patrol that knocked Nabukenya, Police say the boda boda which Nabukenya was riding on, tried to overtake a Police patrol but sadly collided with another boda boda.
Police say that the rider of the other boda boda fled the scene and the mission of his search is ongoing. Police add that it is their patrol that rushed Nabukenya to hospital.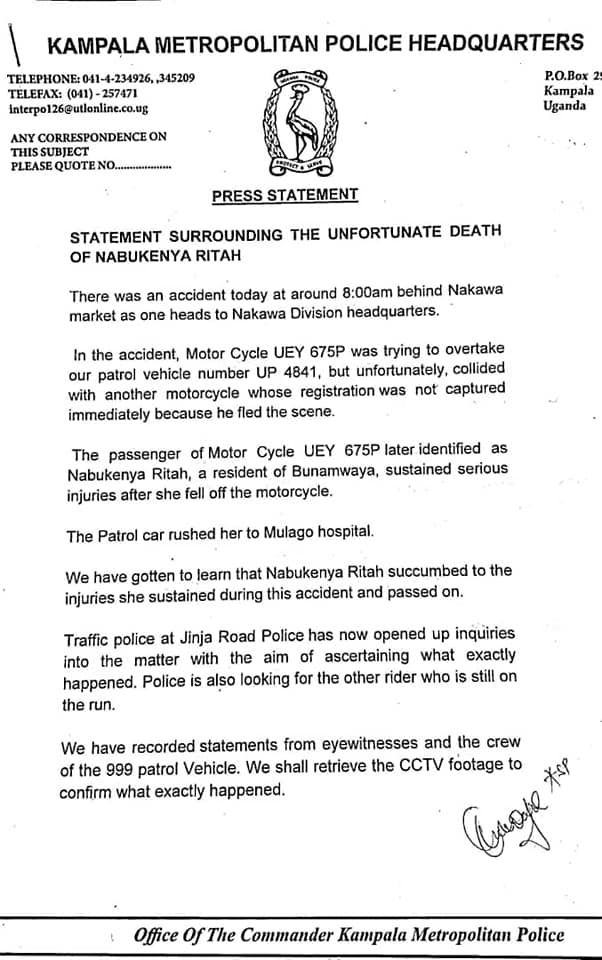 "We have recorded statements from eyewitnesses and the crew of the 999 patrol vehicle. We shall retrieve CCTV footage to confirm what exactly happened," reads the Police statement.