We all know the risks our brothers and sisters brave to work in the Middle East. Sad news reaching our desk indicates a one Abdullah Alsinawi has conned Ugandan 'Kadamas' working in Oman and Saudi Arabia over Shs400 million.
According to our source, Abdullah is also a Ugandan operating a Shipping and Cargo company called Wadi Beni Jaber Trad. & Cont. L.L.C.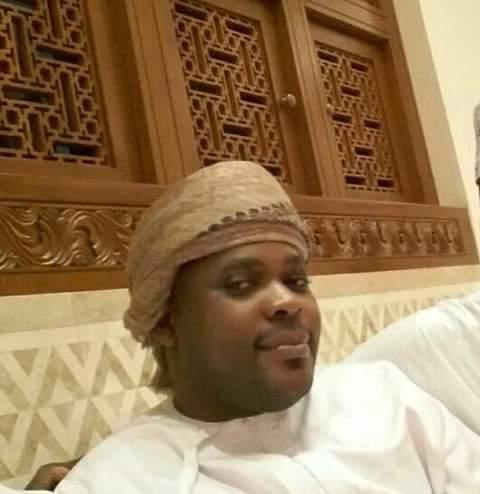 The source narrates that Abdullah has been in the business for over 10 years operating in mostly Arab countries though his main base is in Oman.
However, since 2018, the source says Abdullah seems to have lost transparency in doing business as over 100 people have complaints about him. As of date, Abdullah is said to have conned over Shs400 million from these unsuspecting Kadamas in promise to ship their property back home.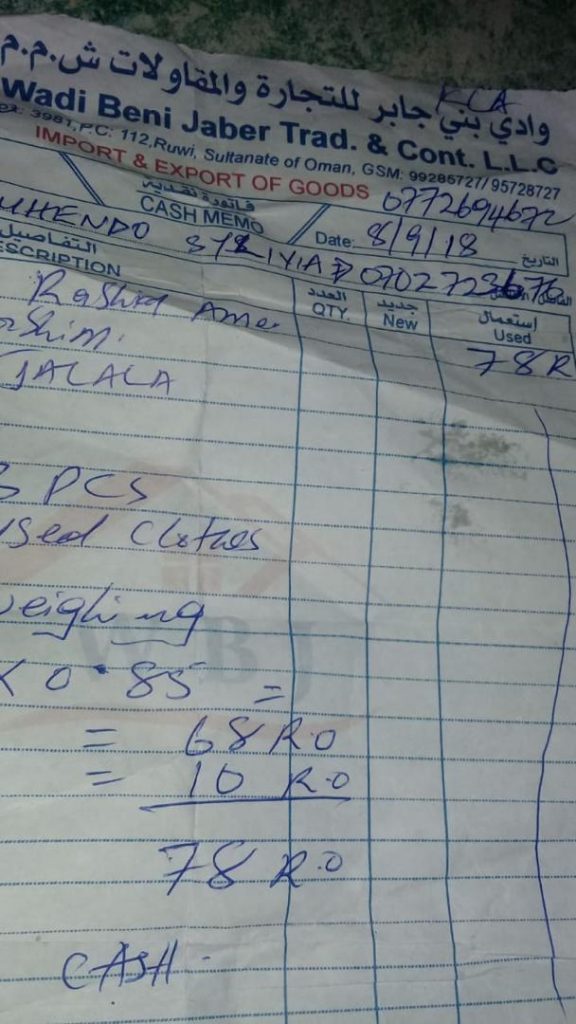 Going by the receipts seen by Matooke Republic, at least each individual pays OMR 35 (about Shs334,000) as shipping fees, but the charges depend on the weight and value of the property. Some of the most common property include; TVs, oven, washing machines, fridges and clothes.
"We created a WhatsApp group that has over 100 members. But a person who has the lowest value of property they delivered for shipping stands at Shs5 million," says the source.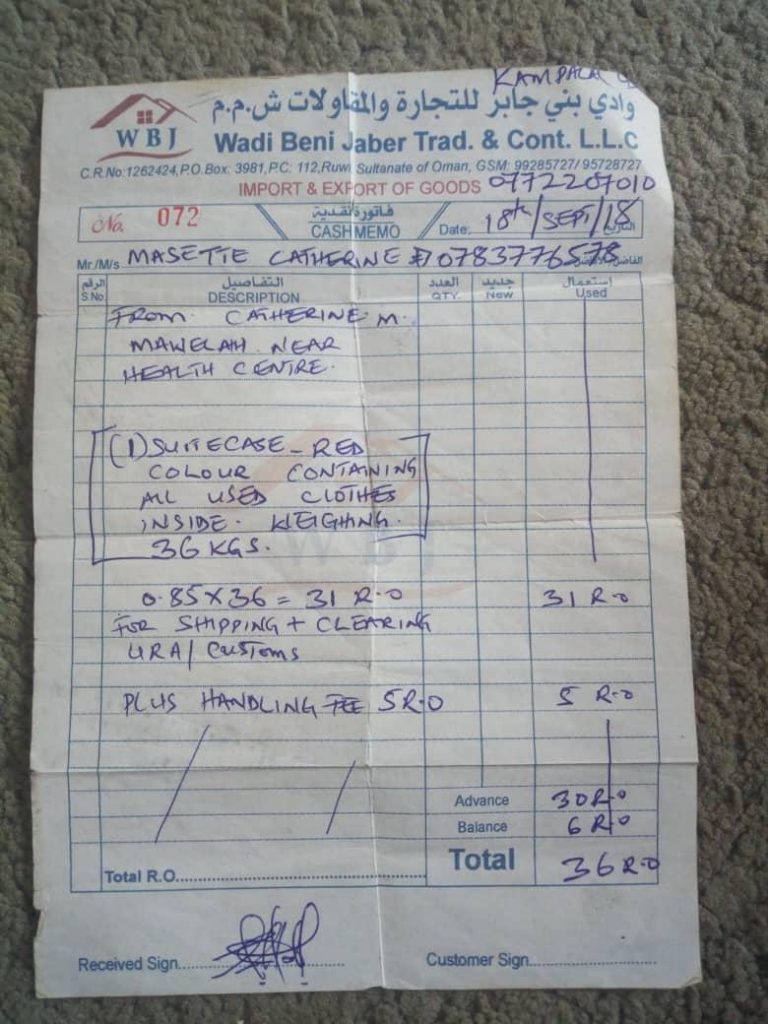 One of the complainants, Babirye Sylvia says in August last year, Abdullah came to their accommodation block in Al Hail to pick her boss's luggage, she asked him whether he can also help ship hers back home.
"He told me to pay OMR110 (about Shs1,050,000) as shipping fees. I told him to come back on August 26, 2019 to pick his money and bring me the receipt. He indeed came back and I cleared everything," Babirye says.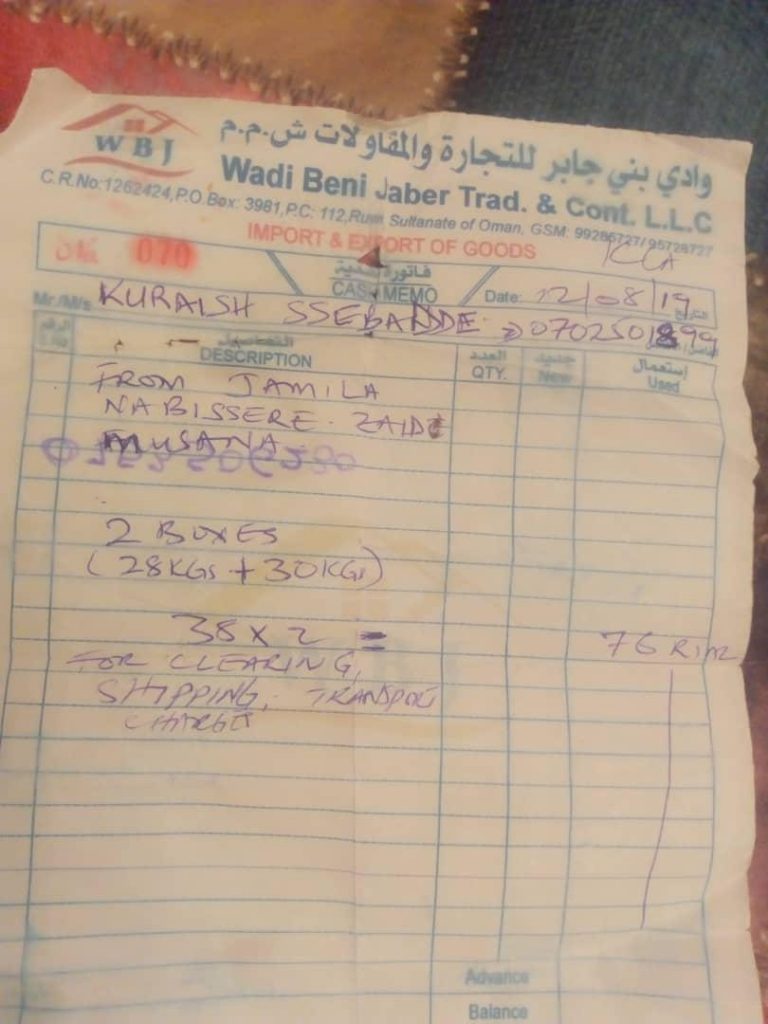 She adds that Abdullah promised her property which included one maroon suitcase and a big travelling bag would reach home in two or three months.
"But since then, he doesn't reply to my messages," frustrated Babirye reveals.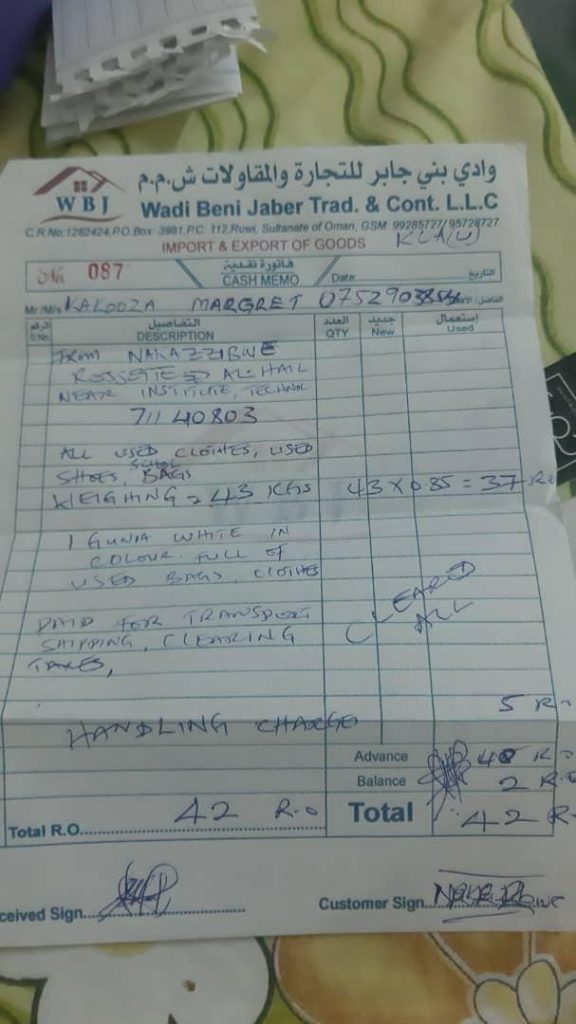 It is said that Abdullah works with his brother only indentified as Rashid. He is the person who receives all the property in Uganda.
Disappointedly, at the time of writing down this article, his known phone numbers that were provided by our source were off and the complainants said he and Abdullah might have changed their numbers completely to hide from those looking for him.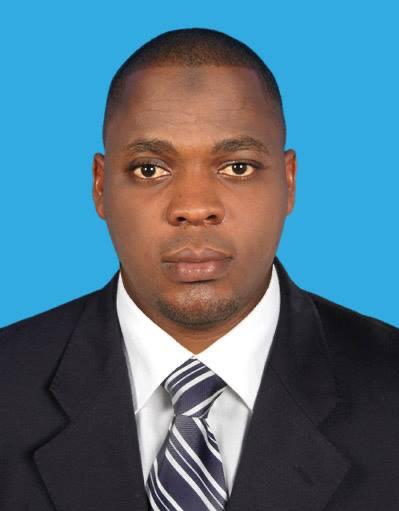 The Kadamas are now crying for government invention in their matters since the foreign authorities have not been of help so far.