The past two or three weeks have been filled with a lot of heat in Hoima Municipality where residents of that area have been preparing to vote for the highly contested Woman Member of Parliament.
The two-horse race that was between NRM's Busingye Harriet and FDC's Nyakato Asinansi saw top leaders from both camps make their way to the oil-rich Municipality to campaign for their respective candidates.
President Museveni campaigned for Busingye where he highlighted a number of achievements NRM has reached and what the party is planning to do for the people in the municipality once Busingye is voted into the Parliament.
FDC's Nyakato had opposition bigwigs both from FDC and People Power leader Robert Kyagulanyi alias Bobi Wine highlighting the faults in Government and the need to change, and how that can be realised by winning more seats in Parliament.
The people heard both sides and they voted for who they felt was a better candidate that will better represent them in Parliament, and that is Harriet Busingye.
According to results released by the Electoral Commission in the wee hours of the night, a total of 62,090 valid votes were counted and NRM's Harriet Busingye won the highly contested by-election with 33,301 voted compared to 28,789 votes for Nyakato.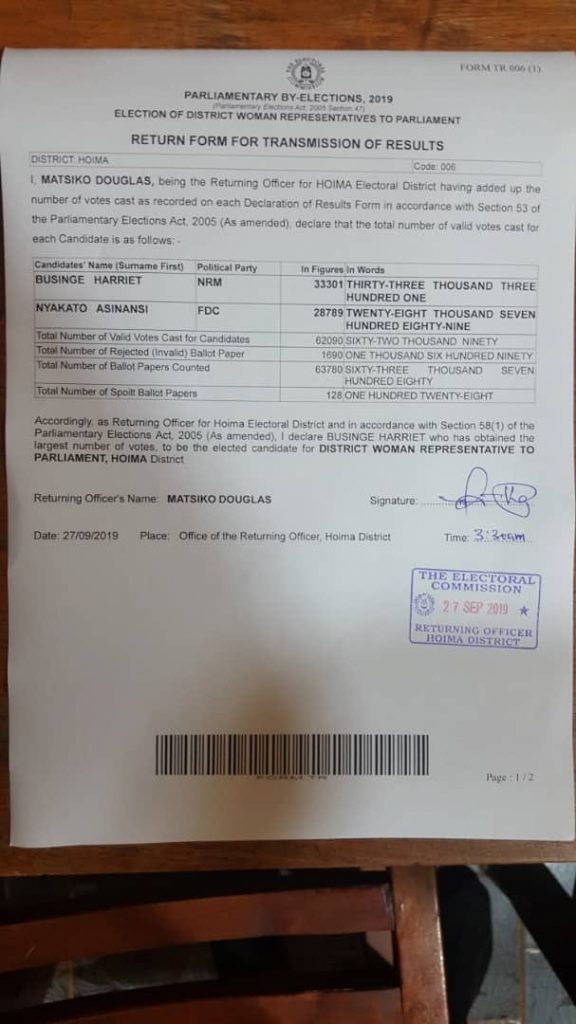 In another not-so-highly contested by Woman MP election in Kaabong district, NRM's Tubo Nakwang easily cruised past FDC's Adyaka Judith Nalibe with 22532 votes compared to 1692 for Adyaka.