Police has today finally released CCTV footage showing how the late Michael Kalinda popularly known as Ziggy Wine was dropped at Mulago hospital after the alleged bodaboda accident.
The released footage shows three people (rider, victim and helper) riding on a bodaboda with one in the middle (alledged to be Ziggy Wine) appearing to be unconscious moving towards Mulago hospital causality ward.
According to Police, the footage was captured by two stationed cameras that are around the national facility.
"The first footage was captured by the fixed camera at Mulago Market Road on the 21/07/2019 at around 8:11 pm," reads part of the police statement.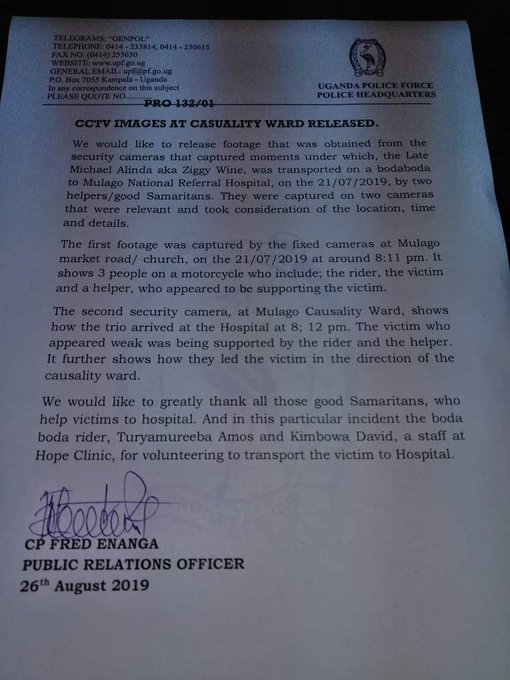 Police said the second camera is stationed at the Mulago causality ward and in the footage it showed the bodaboda parking in the direction of the ward.
In the statement, the police have identified the rider to be Amos Turyamureba and the helper David Kimbowa who is also a staff at Hope Clinic, the alleged facility where Ziggy Wine was rushed after being involved in the accident.
Earlier this month, Ziggy Wine was first reported missing and days later he surfaced at Mulago Hospital in a very sorry state. Reports circulated of how he was abducted by unknown people, tortured, cut off his fingers and plucked out his eye.
However, after passing on, police claimed to have carried out an investigation where it said that Ziggy was involved in a fatal bodaboda accident along the Northern Bypass in the area between Kyebando and Kaleerwe.