The awaited rematch of 'Fight of the century' between Ugandan famous kick-boxers Moses Golola and Umar Semata is on this Saturday, August 3 at Freedom City on Entebbe Road.
During the press conference earlier on today, the two giant fighters vowed to emerge winners of the supremacy fight.
Golola sarcastically threatened to 'shave off' Semata's beards using punches.
"I have trained so hard for this man and he should be worried of what he is going to face on Saturday," Golola said.
Soft-spoken Semata replied saying; "Golola had his time but I am going to officially send him to retirement."
In the course of the presser a saga erupted after Golola was asked to address journalists in English. The self-proclaimed hot temper lost it as he decided to physically attack Semata but ended up punching a journalist.
Moneybag Jack Pemba who is one of the main funders in Semata camp described Golola's actions as unprofessional.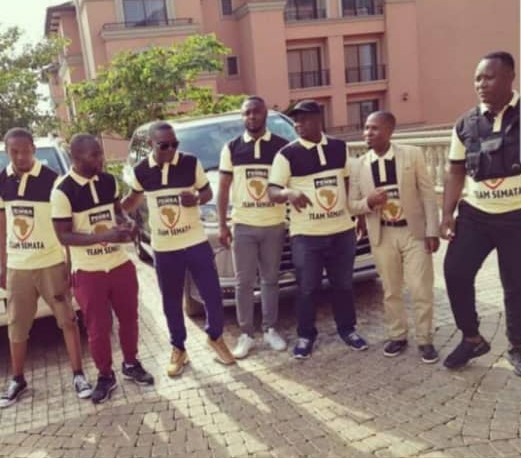 "Golola is our brother and has been an ambassador of kick-boxing but what he has done was very unprofessional. He is scared and a coward," Pemba said.
"Umar is a champion and he is going to beat Golola again come Saturday," he added.
Pemba pledged to offer Semata winning tokens and medication money for Golola.
Unlike in the first encounter, the rematch is World Federation of Martial Arts (WFM) title fight.