Former Miss Uganda, Stella Nantumbwe popularly known on the social scene as Ellah has taken out a Shs9m full-page advert in the Daily Monitor and hired five top law firms to fend off rumours of her an alleged relationship with "a Kampala-based prophet."
While the prophet was not named in the advert, it is widely believed she was referring to Prophet Elvis Mbonye as all publications she intends to sue published stories alleging a relationship with Mbonye.
The letter titled Notice of Intention to Sue and/or Cease and Detest Letter carried on page 7 of Daily Monitor today, serves a warning to several media houses including The New Vision, Red Pepper, Galaxy FM, ChimpReports and Big Eye among others to stop "peddling rumours" about that former Big Brother housemate and 2013 Miss World Contender is in a relationship with Prophet Mbonye and is even pregnant for him.
The above media houses and several social media bloggers, according to the letter, carried in their respective publications stories that "Ellah was involved in a sexual relationship with a Kampala-based prophet, who purportedly gifted her with a car and that she returned the favour by getting pregnant for him."
"The said baseless and unfounded publications and utterances you have made are intended to portray to the public and the whole world a lurid message that our client is an immoral and irresponsible person," the letter further read.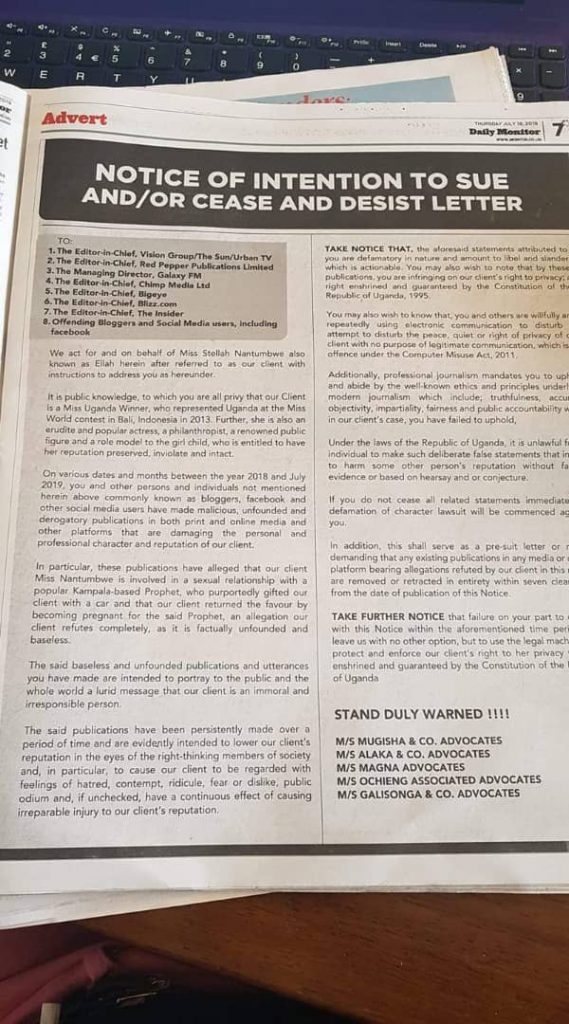 Ellah, who on top of being a famed actress popular for her leading role in NTV's 2017 drama Second Chance is also a philanthropist says that she is entitled to have her reputation preserved, warning that the published statements are not only defamatory, but they also violate her right to privacy as guaranteed by the Constitution and disturb her peace contrary to the Computer Misuse Act and she will not hesitate taking legal action if the media houses don't follow her directive to the letter.
"If you do not cease all related statements immediately, a defamation of character lawsuit will be commenced against you. This shall serve as a pre-suit letter demanding that any existing publications in any media or platform bearing allegations refuted by our client be removed or retracted entirely within seven days from the publication of this notice…." the letter read.