Jinja Highway already has one of the most dreaded traffic jams around Kampala as it is the only artery in and out of the city from the Eastern Uganda side.
The road has taken a battering from the heavy trucks carrying transit goods to and from Kenya, fuel tracks and an avalanche of the working class who commute to the Central Business District for work but reside in the outskirt towns such as Kireka, Bweyogerere, Mukono and surrounding areas.
On a good morning, someone who lives in Mukono – regardless of whether they are driving or not has to have left their abode by 6 am or earlier in order to get to the office before 8:30 am. The other, more expensive alternative is to jump on the next boda-boda.
And that is about to get worse!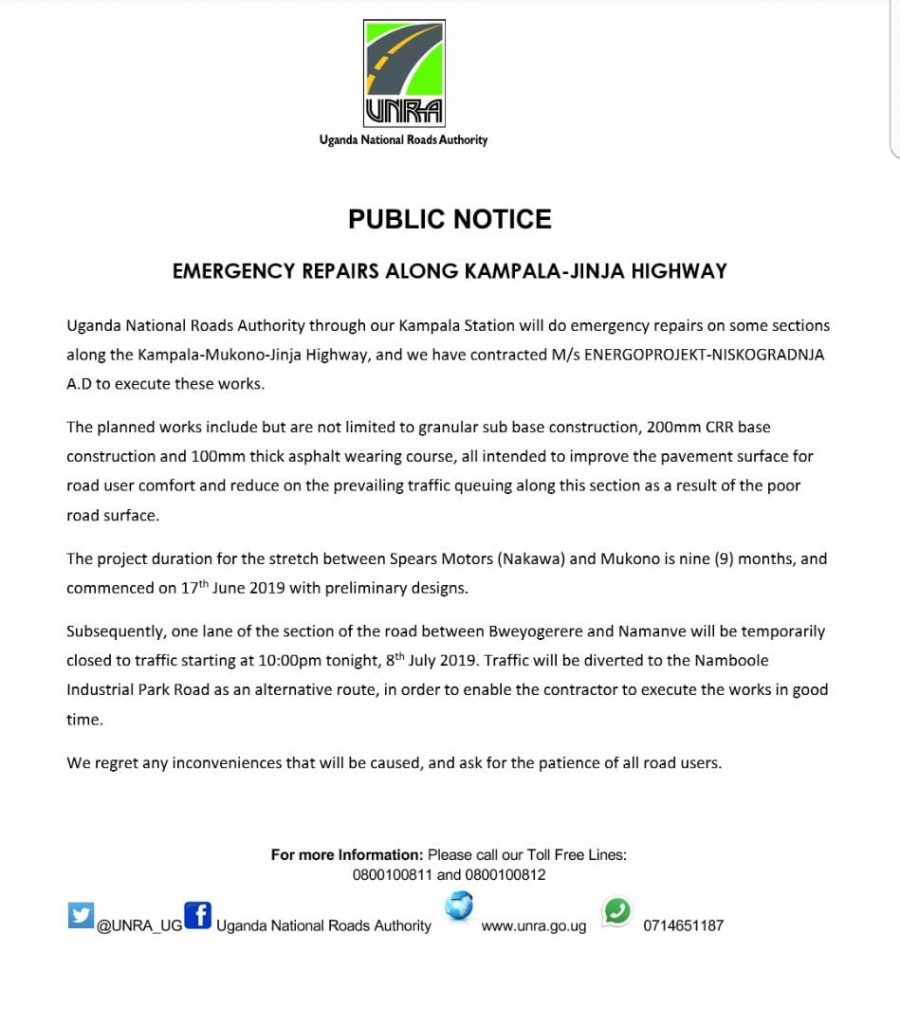 Starting from Monday, July 8, 2019, precisely at 10pm, the Uganda National Roads Authority (UNRA) has announced a diversion of traffic on Jinja Road from Spear Motors in Nakawa to Namanve, the Mukono Industrial Area to allow for emergency repairs on some sections of the Kampala-Mukono-Jinja Highway.
According to presser released by the Authority, the road works will take nine months. During this time, one section of the road between Bweyogerere and Namanve will be cut off.
"Traffic will be diverted to the Namboole Industrial Park Road as an alternative route to allow the contractor execute the works in a good time," the statement that takes effect tonight reads.
Without a doubt, this is expected to cause further delays and to affect the roadside business along the ever-busy highway. Road users are advised to cooperate with contractor if the completion date to be brought closer.
Some of the businessmen who have trekked the road for over 12 years now say that if the heavy trucks are not permanently diverted from the main road to the industrial area road, the repairs will also be short-lived.
"This road looks like this because of these heavy trucks. UNRA should use this opportunity to divert them to the Jokas Road lest they will be wasting time as a dog that hunts an elephant. You wait and see," Hajji Musa Abbas, a Mukono businessman told Matooke Republic.