The Director of Strategic Communication at the Chieftaincy of Military Intelligence (CMI), Col. Paddy Ankunda has said that Kyadondo East Member of Parliament, Robert Kyagulanyi, popularly known by his musical stage name, Bobi Wine, was not tortured by the army in Arua last year.
Ankunda was addressing a panel on Tuesday morning raising awareness on the prevention of torture as one of the activities to mark the International Day in Support of Victims of Torture at Hotel Africana. He defended the actions of the army on August 13, 2018, when the legislator, together with fellow MPs and journalists were arrested for allegedly pelting the presidential convoy with stones during a by-election campaign.
"I visited the Honourable Kyagulanyi when he was detained at Makindye Military Barracks and in my view, I can not conclude that he was tortured," the former UPDF spokesperson said to the amusement of the audience.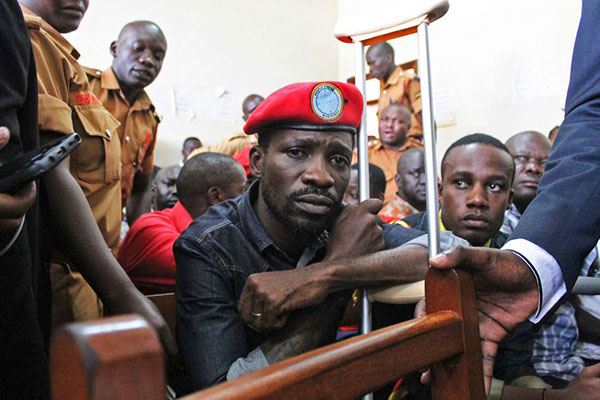 Although Ankunda admitted that there's an institutional policy breakdown among security forces in as far as torture is concerned, he says that Bobi Wine played to the international gallery to get attention and sympathy but was not tortured as he led the world to believe.
The alleged Arua torture left Bobi Wine unable to walk and Mityana Municipality MP, Francis Zaake gasping for life. The duo, among the 33 that were arrested and charged with treason, had to seek specialised treatment in the US and India respectively.
Bobi Wine's driver, Yasiin Kawuma was shot dead and left lifeless outside Pacific Hotel where the People Power team was camping.
Ankunda's remarks did not sit well with Bobi Wine's lawyer who also double's Bugiri Municipality MP, Asuman Basalirwa, one of the two people that were allowed to access Bobi Wine the day he was first Court-Martialed in Gulu.
"I was one of the two Ugandans, the other being Hon. Medard Ssegona, that were allowed to see Bobi Wine when he was flown to Gulu for Court Martial. He was in an isolated room, both arms and legs cuffed, bearing wounds all over the body. That is why they could not allow the media or his family anywhere near him," he recounted.
Torture has become rampant among security outfits such as the Internal Security Organisation (ISO), CMI, UPDF, the Uganda Police Force and the Special Forces Command (SFC) with records provided by the Human Rights Commission showing that over 15,000 cases have been reported against the Forces in the last five years.
"I don't think it is right to bandwagon all of us (security forces) as people who torture. This business of "Order from above" shouldn't be there. There's no order from above," Ankunda said.