Christian Life Church head, Pastor Jackson Ssenyonga, has spoken out about embattled fellow preacher Aloysius Bugingo, reckoning that the House of Prayer honcho is now openly a 'false prophet' who long went off track and is doing his own thing under the banner of the church.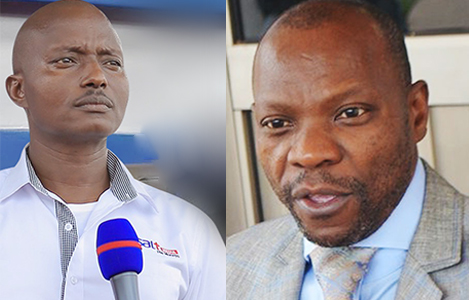 Speaking to the media yesterday, Pr. Ssenyonga said that 'false prophets' are people who while hiding under the church umbrella operate a system that twists scripture to fit their individual ambitions, covering their weaknesses rather than letting scripture guide them. Pastor Ssenyonga, insisting on calling him 'Mr' rather than Pastor, pointed put three previous acts of Pr. Bugingo that he said among others indicate that Pr. Bugingo is a 'false prophet.'
"Firstly he burnt the Bible, something that should never be done by any professing Christian" pastor Ssenyonga said. "Mr. Bugingo played on his followers' minds and misled them into cheering him, as he burnt the Word of God, and and that is simply undefendable."
"Them Mr. Bugingo made people throw away their wedding rings, just because he had trouble in his marriage. He came up with a scheme to discredit the 'wedding ring', jut to justify why he had thrown away his own ring, which was a very selfish thing to do because his marital problems were not anyone else's marital problems," pastor Ssenyonga further reckoned.
"The third is this latest act of coming up with a dishonest scheme to leave his wife just because he feels tired of her and wants to officially settle with his new 'mistress.' Here he has even tried to teach his followers and the whole nation that it is okay for a man to divorce his wife for whatever reason and marry a new one they fancy. This is clearly against Bible teaching which outlaws a man leaving their wife except if they have committed adultery. A true man of God can't teach people that the way to solve their marital differences is divorcing and marrying afresh, because that is not the Biblical teaching. Mr. Bugingo's teaching and example is dangerous to the family structure in Uganda because people following his lead are going to forge excuses and leave their spouses, breaking the family institution in this land."
A ferocious Pr. Ssenyonga reckoned that Pr. Bugingo is acting exactly like Kibwetere did, and like all other false prophet do –playing around with Scripture whichever way one wants to justify whatever one wants to do. The Christian Life Church head called on the entire Pentecostal church of Uganda to reign in on Pr. Bugingo and counsel him back to the truth, and if he refuses to heed 'blacklist' him.