Kyadondo East MP Bobi Wine's traditional Easter Monday show at One Love Beach Busabala might not happen for the second year running, as Uganda Police is yet to clear it, according to our sources amongst the show organizers.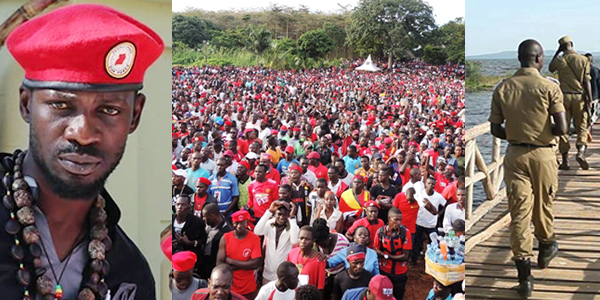 According to Hon. Kyagulanyi Ssentamu (Bobi Wine), the concert was held without any problem for ten consecutive years until he joined politics, upon which the concert was last year cancelled by Police at the last-minute over unclear reasons.
Speaking at a concert press conference today, Bobi Wine reckoned that
government is simply using the police to frustrate his music business, otherwise there's no requirement that they have not met so as to be denied clearance to hold the event. Hon. Kyagulanyi revealed that the event's organizers who include Bajjo Events and Abtex have reached out to police countless times but the officers in charge have continued to play hide and seek.
"Police can continue to dodge us as always but the show will go on as scheduled. We have complied with all what the law wants us to do and police has no reason to interfere the show," Bobi Wine said.
Promoter Bajjo called upon the public to stand with Bobi Wine saying; "Today it might be Bobi Wine but tomorrow some other artiste will be blocked. If police refuses to offer us security on Monday, we have the capacity to protect ourselves."