While Ugandans continue to marvel, get angered and debate what exactly might have gone wrong for the recently-commissioned New Source of the Nile Bridge to require several repairs within just a few months of use, Matooke Republic has learnt of the cause of all the trouble.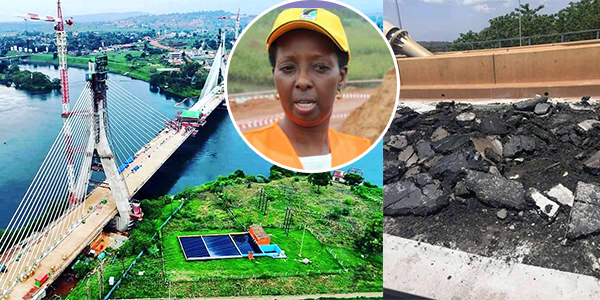 Word reaching us indicates that the mess on the asphalt surface of the new bridge has its roots in a disagreement that occurred between UNRA and the project's main contractors during the construction of the infrastructure. The main contractor of the structure is Zenitaka Corporation and Hyundai Engineering and Construction Company, and we have learnt that the said company disagreed with UNRA over the choice of the sub-contractor and method of laying the asphalt layer.Contractors; Zenitaka Corporation and Hyundai Engineering and Construction Company constructed the structure of the bridge, but the laying of the asphalt-wearing surface was done by Chinese firm Cico, with Oriental Consultants doing the supervisory consultation work.
"As contractors, we were mandated to recommend what type of surface asphalt was to be layed, as well as recommend a sub-contractor to do that recommended surface asphalt, which we did. But UNRA went ahead and chose a different surface asphalt of their preference, and they also chose a different sub-contractor of their preference," an insider at Zenitaka told Matooke Republic. "Things were also things done hastily in order to meet the deadline of commissioning the bridge."
"It was against our wish but UNRA argued that the deadline had to be met to commission the bridge," the source added. "If a doctor prescribes something else and you go ahead to self-medicate, the doctor cannot be liable for your woes."
Matooke Republic has also learnt that in the face of the said revelations, different government institutions that play a monitoring role of public projects are still shocked at how UNRA made costly mistakes in the construction of the new Nile Bridge. Word is that the Auditor General's office, the department of Public Procurement and Disposal of Assets, Ministry of Works and Transport, among others, are still gathering details of the mess to take appropriate action.
We understand that there have now even arisen doubts among different government leaders regarding the quality of the work and strength of the bridge, as well as whether the reported 120-year life span is really a genuine claim.
UNRA on its part has continued to deny that there are any major structural problems with the bridge. The chairperson of parliament's Physical Infrastructure committee, Robert Kafeero Sekitolekohas also insisted that presently there are no major repairs on the bridge. He says if any such problems are to be indeed discovered with the project, it would be a loss to the economy and major embarrassment.