Parliament has approved the controversial release of Sh280 billion from the State coffers, for the purchase of 4 Bombadier planes towards the revamping of Uganda Airlines.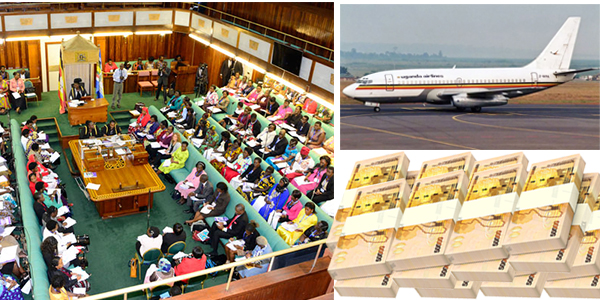 In a plenary sitting of the August House this morning, the parliamentarians reviewed the presentations of Works and Transport Minister Monica Azuba Ntege on the progress of revamping Uganda Airlines, which she made to Parliament's Budget Committee over the last couple days. The House ultimately agreed to release the funds asked for to purchase the aircrafts.
This came after the Chairperson of Parliament's Budget Committee Amos Lugoloobi presented a report of his committee's findings on the Uganda Airlines documents presented by Minister Azuba.
Before passing the supplementary budget, the House also adopted the report of the Budget Committee with its amendments, which include formation of Uganda Airlines Company Limited by an Act of Parliament, as well as having the ground handing services managed by the same company (Uganda Airlines Company Limited).
The release of the funds had looked uncertain over the past couple days, after ownership and registration of Uganda Airlines became a controversial issue. Works Minister Azuba presented documents which indicated that Uganda owned only 0.001% of Uganda Airlines shares, and after she acknowledged that was a mistake in the documents, another error turned up as it was discovered the documents spelt out herself and Finance Minister Matia Kasaija as the owners of 99% of the national airline that's being revamped.