Mbarara Municipal authorities, led by the Mayor Robert Kakyebezi, have promised to quickly restore the old look of the 'Mahembegente' main roundabout by erecting a brand new sculpture of an Ankole long-horned bull.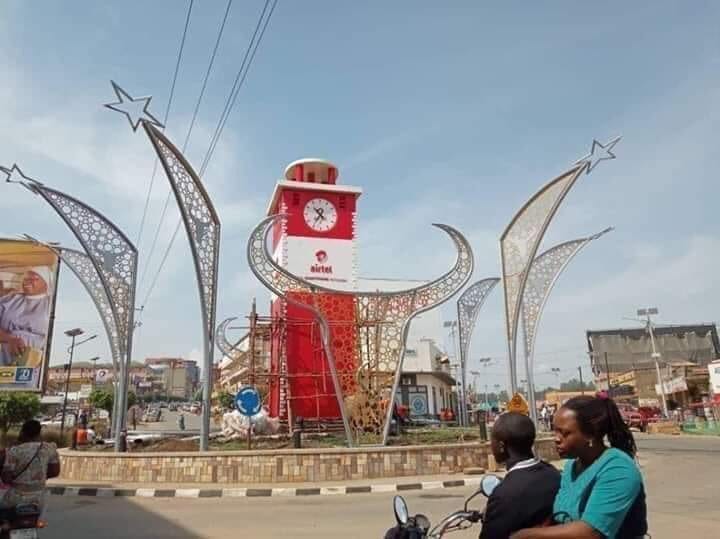 "There are those people who are worried that the identity of Ankole will die and has been replaced by metals and shiny objects. The old one which stood was in desperate need of replacement. It was old and one horn was broken. The Ankole cow will come back, we already have someone working on it, he's going a beautiful Ankole cow…<" the Mbarara Mayor told the media today afternoon.
This follows widespread criticism of the new look of the Main Roundabout that is Mbarara's landmark sight –criticism that has dominated social media for the larger part of today, much of it actually coming in form of mockery.
The new artwork that had recently come to define 'Mahembegente' Roundabout features metallic lighting symbols of moons , stars and a cattle head, all of which light up at night. These have covered the roundabout's old traditional statue of a long-horned Ankole bull. Matooke Reubic has learnt that this new artwork was erected at the roundabout as part of the works done in Mbarara Municiality under the Uganda support to Municipal  infrastructure development (USMID) project –a project in which roads, drainage channels and other infrastructre are being renovated or constructed. USMID has implemented the project in different municialities across Uganda over the last two years, at a cost of about Ush10 billion, with Abu Baker technical services as the contractor.