Like any major international flight, the plane that was labelled Ethiopian Airlines Flight 302, which crashed on Sunday shortly after takeoff, killing the 157 on board, was packed with passengers from across the world. Professors from Kenya, aid workers from Ethiopia, a career ambassador from Nigeria and a fisheries consultant from Britain.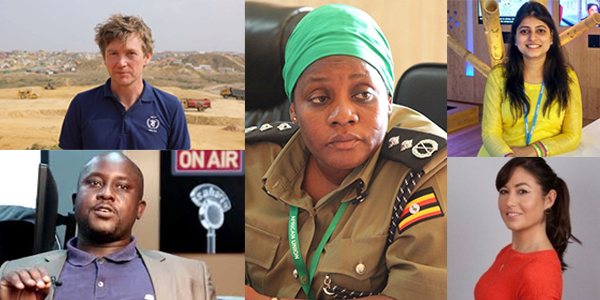 Some were heading to job training, others to an environmental conference. Some were simply going home.
Yesterday, as the identities of more victims were reported, heartache rippled through living rooms, convention halls, classrooms and boardrooms across the globe. Tributes flowed on social media. Colleagues observed moments of silence.
The campus of Kenyatta University in Kenya mourned the death of Isaac Mwangi, a lecturer in the department of education, communication and technology, and Agnes Gathumbi, a director of teacher professional development.
Dr. Mwangi wrote dissertations on using technology in secondary education and worked on projects related to integrating images and graphics into the teaching of poetry.
Hussein Swaleh, the 52-year-old former head of the governing body for Kenyan football, was also among those who died on the flight, according to Barry Otieno, the federation's head of communications.
"It's a sad day for football in Kenya, very sad day," said Mr. Otieno. "We were looking to roll out a youth development football tournament for the future of youth and football in the country, we had a lot planned."
Thirty-two Kenyans died on the flight, more than from any other country.
One Kenyan family lost five members in the crash. Kelvin Karanja lost his mother, sister and three children who were travelling from the Ethiopian capital to Nairobi to meet the rest of the family. Karanja's sister and children were on transit from Canada to Kenya via Ethiopia.
A Canadian family from Ontario also lost six members in the crash. Peel District School Board said in a statement that students Ashka and Anushka Dixit were traveling on the flight with their parents and grandparents, who were not named.
Aid workers were also killed in the crash. Four were employees of Catholic Relief Services, all of them Ethiopian citizens traveling to Nairobi for training.
In Nigeria, the government confirmed the death of Abiodun Bashua, a former ambassador who had been working with the United Nations Economic Commission for Africa.
He joined the Nigerian foreign service in 1976 and worked in several countries, including Austria, Ivory Coast and Iran, according to the Nigerian Foreign Ministry. He also worked with the United Nations on peacekeeping operations and climate change issues.
Two Spaniards were on the flight. Jordi Dalmau Sayol, 46, was a Catalan chemical engineer who was on a business trip. He was working for a water infrastructure company that was awarded a water desalination project in Kenya, according to the Spanish daily La Vanguardia. Mr. Dalmau's death was confirmed by his company.

Pilar Martínez Docampo, 32, worked for an aid organization and was traveling to Kenya to give language classes to children, according to La Opinión, a newspaper in her home region of Galicia, in northwestern Spain. The authorities in her hometown, Cangas do Morrazo, confirmed her death.

Among the passengers were at least 22 people who worked for United Nations-affiliated agencies.
The World Food Program said seven of its staff had died in the crash, the most of any United Nations organization. The program's work focuses on widespread hunger caused by war or instability in Nigeria, South Sudan and Yemen, among other countries.
The World Food Program victims included Ekta Adhikari of Nepal, who had worked for the program in Ethiopia; Michael Ryan of Ireland, who had helped Rohingya refugees in Bangladesh prepare for seasonal monsoons; and Zhen-Zhen Huang of China, who had worked in Pyongyang, the North Korean capital.