The Uganda national examination board (UNEB) has released the results of the candidates who sat for the Uganda Advanced Certificate of Education (UACE) last year, indicating that there has been an improvement in performance.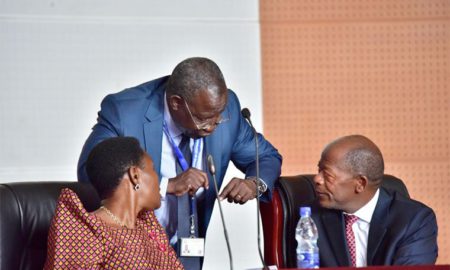 The UNEB executive secretary Mr. Daniel Odongo,
releasing the examination results at the Office of the President in Kampala on Thursday, said out of the 98,524 students who sat for the 2018 exams, 95,839 (98%) have qualified for the award of the UACE by scoring at least a point.
1,489 students have failed without a point after attaining F-grade in last year's exams and therefore don't qualify to receive the UACE. These have to resit UACE.
UNEB also revealed that candidates from mainly the traditional government schools, some of the better established private schools as well as those from urban centres performed better than their counterparts from less established as well as more rural schools.

The results indicate that 36,656 students have passed with three Principal passes, about 26,467 have been able to attain two principal passes, 20,413 with one principal pass while 12,303 have attained one subsidiary.

Mr Odongo said that female candidates performed better than their male counterparts at the principal level pass in Arts, Physics and Agriculture. Male candidates were better in Mathematics, Chemistry, Biology Art and General paper.
"History, Economics, Entrepreneurship Education, Mathematics, Physics, Chemistry and Arts have shown better performance than in 2017. Geography improved at the A-Pass level. CRE, Literature in English, Agriculture and Biology showed a decline," Mr Odongo said.