It is unclear (and perhaps it will never come to be known) what exactly has been the motive, but it is now an indelible fact that this morning the Deputy Attorney Mwesigwa Rukutana showed to Lands Minister Betty Amongi a video of himself taking on the Land Commission yesterday afternoon.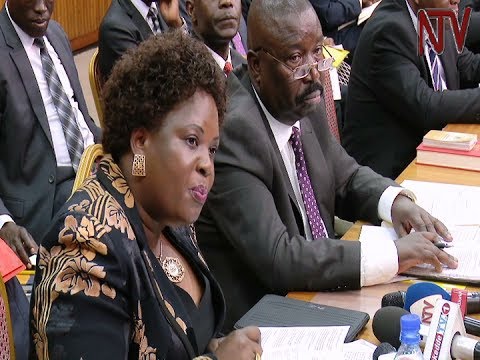 Unaware that he was being captured live on camera, the Deputy AG today morning went about the business of showing the Lands Minister a video of himself lambasting the commission in what was one of the biggest news items in Uganda yesterday, and the Attorney general seemed very happy with what him and the Lands minister were watching on an Ipad. Cameras zoomed in on the AG and the Lands minister both smiling as they watched the footage in which Rukutana told off Justice Catherine Bamugemereire, telling her to even go and hang and if possible report him to God.
The debate now is whether the Attorney General was bragging to the Lands minister, or if the two cabinet members were celebrating the incident since the Lands Minister Betty Amongi has also previously had a clash with the commission and expressed her disdain for it. Betty Amongi last year appeared before the commission and had some kind of tug-of-war wuith it, later referring to it as unethical.
Watch the video here, as sourced from the NTV Uganda Facebook page.