The leader of the People power movement and Kyadondo East MP Robert Kyagulanyi has announced to the world that he is seriously considering the possibility of standing for President of Uganda in the upcoming 2021 election, which would most likely see him face off with President Museveni.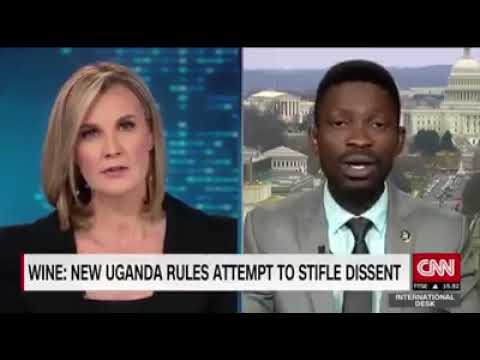 In an interview with one of CNN's principal political interviewers
Robyn Curnow some hours ago, the singer-cum-politician who is on a tour of the Americas said that he is seriously considering running for president because "Many people have been coming to me calling for me to stand and we have discussed it with my team, and we are seriously considering challenging President Museveni in the polls.
Bobi Wine further told Amanpour that he and his team have planned as a winning strategy to have many Ugandans register to vote, so that the 'nationwide desire for change from Museveni's regime' will not be defeated by a lack of enough registered voters as has been in previous elections (according to Bbi Wine).
The self-proclaimed Ghetto president has before clearly indicated that the 'presidential chair' is what him and other opposition politicians want from Museveni and nothing else, but this is the first time he has declared that he might run for president in 2021. Hitherto he has said that he only wants to be a kingmaker rather than president, and many people have been of the view that it would be too early for a novice politician like him to run for president in 2021, reckoning he needs some more time to be ready at least in 2026.