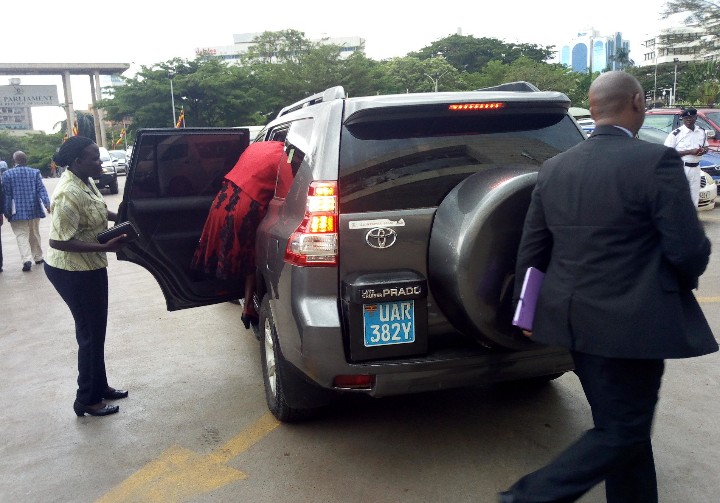 The Committee on Commissions, Statutory Authorities and State Entreprises (COSASE) has ordered embattled former Bank of Uganda Director of Supervision, Justine Bagyenda to return cars and security as she is no longer an employee of the Central Bank.
This was after the Committee investigating how BOU sold off seven commercial banks, learnt that Bagyenda who was fired in February last year, still had all the privileges of a senior staff member in contradiction of Article 164 of the Constitution.
Although the Governor Tumusiime Mutebile had told COSASE that Bagyenda's privileges as a senior bank official would expire on December 31, 2018, her successor, Dr Tumubweine Twinemanzi informed the Committee today that Bagyenda's privileges were extended until June 2019.
"Bagyenda's privileges were extended after she told the bank that she would find it hard to use her personal vehicle to honour Parliamentary summons," Twinemanzi revealed.
Bagyenda who was in-charge of the supervising commercial banks in her 34 years of working at the bank is a principal witness to the Committee proceedings that have been ongoing since the last quarter of 2018.
However, the Committee chaired by Bugweri County MP, Abdu Katuntu was dissatisfied with Bagyenda's logic ordering the Central Bank to immediately revoke all privileges to Bagyenda and also calculate in monetary terms how much has been spent on her since December 31 so she can pay the money back.
"Parliament is an open place. I really don't see how difficult it was going to be for Bagyenda if she used her personal car," COSASE chair, Katuntu said.