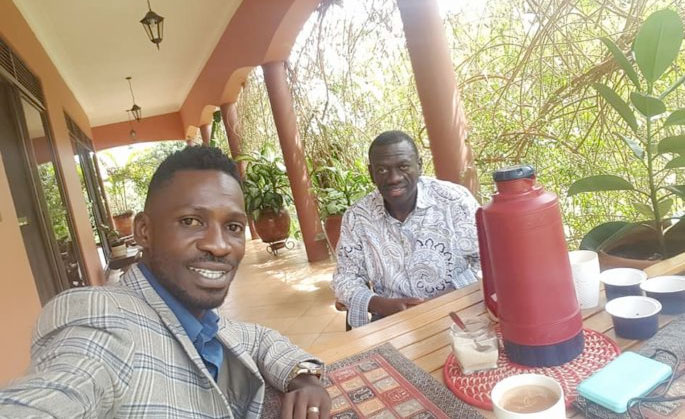 A 50-second video made rounds on Sunday showing former Forum for Democratic Change president and four-time presidential candidate, Dr Kiiza Besigye saying that the Luganda term "Twebereremu" was a sectarian sentiment being used by some political actors to fuel tribalism in Uganda. 
The term which was coined by Kyadondo East MP, Robert Kyagulanyi has been widely used to as a call to action for citizens to participate in activities of their own liberation. 
Besigye who came under fire from People Power diehards as being selfish has confirmed that Kyagulanyi, popularly known as Bobi Wine called him on Sunday over the remarks and the two agreed on a meeting this week to iron their differences out. 
"I received a phone call from Bobi to inform me about yesterday's troubles. We shall be meeting again soon to reflect further on the way forward," Besigye said. 
The opposition aficionado however remained adamant that tribalism being orchestrated by political actors from the Central Region will undermine the political struggle if it is not nipped in the bud early by the concerned parties. 
"The more important point is that Mr Museveni's NEPOTISM is providing fertile ground for those with bad intentions to promote TRIBALISM. Tribalism can actually shield the thieves from Western Uganda. They can, justifiably, claim that all in the region are endangered. Of course, it would also seriously suck oxygen from the liberation struggle underway," Besigye wrote in a statement. 
The FDC kingpin called for unity instead of division in order to defeat the incurbent regime. This is not the first time Besigye and Bobi Wine are facing off. 
Scenarios were reported in the Bugiri by-election in which Bobi Wine ditched the FDC Candidate for JEEMA's Asuman Basalirwa. It is also on record that while campaigning in Arua for Independent Candidate Kassiano Wadri, supported inclined to Bobi Wine went head-to-head with FDC fans at their rally ground – an incident that the musician cum politician has since apologised for. 
According to Besigye, his Saturday remarks while addressing  FDC leaders in Kampala Division were not targeted towards Bobi Wine as he has never heard the legislator using the statement "Twebereremu" but apologized to him and his fans anyway. 
"I can certainly say that I've never heard him [Bobi Wine] use the word for negative purposes. That's why I sincerely apologise to all who felt that this was my intention," Besigye said.