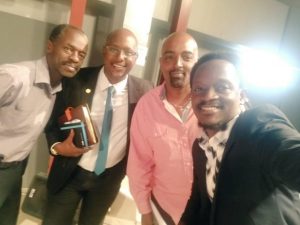 On Monday, December 3, former NTV News Editor and longtime anchor, Maurice Mugisha assumed his role as the Deputy Managing Director of the government broadcaster, Uganda Broadcasting Services (UBC).
He now takes charge of a six-decade media powerhouse that has failed to either dominate, grow or consolidate its base especially with the dynamic media world riddled with competition inspired by a vibrant private sector.
Although Mugisha has been pitted to do a great job, he needs more than a miracle to turn the old, rigid, dysfunctional, public broadcast system that has been stuck in the medieval years around. Here is why:
First, is the content. UBC needs an overhaul of the current content structure to create room for fresh, appealing and vibrant material. As the millennial would say, UBC needs some new vibe. If there wasn't Horizon Vibe and Pearl Flavour on that television, it would be announcements all over again.
Like in the 1920s when our grandfathers used to converge at the Chairman LC.1's home to catch the 1 O'clock news.
But with Anne Kansiime new comic series 'Girl From Mparo' set to air on UBC, it could be a good beginning for the former NTV man to attract a new audience to the station that has alienated youth for decades.
Livestreaming
In the digital age, it is unthinkable that a television station cannot relay programmes lives – even on social media. As the competition relays feeds live for online audiences and Ugandans in the diaspora to follow the goings-on back home, UBC is still struggling to reach local television screens in rural Uganda – 65 years later yet stations that are just 10 years old are doing it much better.
Recently, a certain guest was hosted for an interview within the news segment. He could not believe it when even weeks later, he could not trace his interview anywhere for his friends who obviously didn't watch to view it.
"When I posted that I will be live on UBC, my friends comments were asking; [who is going to watch that] [do people still tune in to that 'fossil tv] and indeed when I asked my host for a video of our interview so I could share it, it wasn't anywhere – not on Facebook or YouTube – basically, I never appeared on TV," the confused guest said.
Production/graphics
Despite having acquired new state of the art equipment such as cameras, a flamboyant production studio, lights et al, UBC's picture on the screen still looks like it was imported from the proverbial Traditional African Society.
The production, the graphics, lighting, colours and picture quality need very serious work. One might think that despite UBC being the champion of digital migration, it remained in the analogue. Even the new stations with equally ugly sets like TV West still perform much better than UBC on this front. This calls for serious work on Mugisha's part.
Talent/Staff
The other major challenge that UBC still grapples with is the lack of technical, competent and professional staff who are key to this turnaround.
This is a problem that the station's in-house consultant, Nada Anderson and Ag. TV Manager tried to resolve with the famous restructuring that forced veteran journalists including Tonny Owana into retirement.
However, not even the 349 new recruits as per the jobs advertised earlier this year have made much difference. Perhaps all they needed is a new captain in Maurice Mugisha.
Mugisha also needs to find a way of converging UBC's numerous radio stations into one or two strong stations, empowering the new and more appealing Magic HD TV as the flagship of the broadcaster, deal with dysfunctional equipment, debt, delayed payment of salaries among other issues that have bedevilled the state broadcaster for decades.