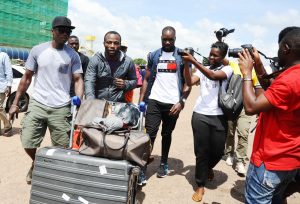 Ugandan Kickboxer Umar 'The Pain' Semata is back home in lead to the $100,000 (Shs380m) K-1 Championship Title fight in April 2019 at the MGM Grand in Las Vegas, USA.
Semata has been in China, thanks to sponsorship from Pemba Sports Africa (PSA)'s chairman Jackson Pemba, from where he beat Thailand Santon Canison 58-50 on points in the Kunlun Combat League to qualify for the April bout.
Semata, who is always thankful to Allah and his fans, had to fight four times in China but only needed to win once to make his "American dream" come true.
Details of the Las Vegas fight are still "in the pipeline," according to the Muay Thai fighter but his promoter Pemba had earlier stated he secured audience with renowned promoter Robert Johnson who is keen to give "Ugandan athletes opportunities to fight in Las Vegas."
"The first fight will involve Semata and will be launched on December 15. But more athletes will have chances as long as they qualify for these fights," Pemba, who is working around the clock to have more fighters travel to China, said.
Semata has braved the cold in China since late October but briefly returned home to shape up for the slightly warm weather in Thailand where he will intensify his training for three months starting January ahead of his trip to Las Vegas.