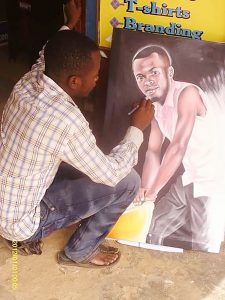 Making money out of artistic endeavours has always been Ephraim Bwayo's thing. The 2013 Textile and Fabric Decoration graduate of Kyambogo University started out as an Art teacher in one of the schools in Kitintale back in 2013.
One year in teaching was enough for him to spot another opportunity for a breakthrough and he found that through graphic design, setting up a venture named 'Paps Graphix'. It is here that he specialised in making designs, badges and logos on shirts and on signposts.
His venture quickly blossomed, so much so that its value grew to the tune of over Shs10m in a period of just one and a half years.
However, this was not enough for Ephraim. Hungry for more, the budding entrepreneur was inspired to start manufacturing paint by one of his friends who was working in one of the renown paint companies in town.
"The mere fact that I had expanded my firm's assignments from just designing logos, posters and embroidery to even designing banners for artistes, cultural events, church banners, I truly needed ink (paint) to make my work stand out so I was positive to the idea of learning how to make paint," Ephraim told Matooke Republic.
The 28-year old entrepreneur added that two weeks were enough for him to grasp the whole process and although some ingredients and equipment were expensive to attain, the Shs5m he had on his account was a good amount to get him started in mid-2017, buying a few mixers and other simple tools.
"I got to learn that paint is more than just a colour. The easiest description of it is a liquid material that dries to a beautiful finish. Yes, many people have no clue about how paint is made and maybe even the process used to generate it yet it is a simple one anyone can try out," he said.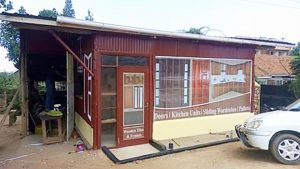 How to make paint
According to Ephraim, making paint calls for about four main ingredients, that is resin, additives, pigment and a solvent of which every ingredient mentioned above plays a significant role in generating quality paint.
The resin helps to bind all the pigments together, and it also allows the product to adhere to the surface on which it is painted. The additives make the paint glide on the wall (surface) with a brush, without which the drying time of paint would not be as fast as is required to be which would result into something known as "sag resistance". Solvents help bind pigments and resin together.
Water-based paints are those in which plain water is used as the solvent. Finally, the pigments are both prime and extender solutions used to give the paint colour.
After manufacturing, Ephraim explained he has taken an initiative of finding a market by contacting a number of interior designers, doing door to door promotions and in return, he has secured market.
"The prices for my paint differ according to the ingredients used. For example, the cheapest goes for Shs35,000 for a 20-litre jerry can. With this type, a cheaper resin polyvinyl acetate is used to bind all the pigments, so the type of ingredients used will dictate the price of the paint," Ephraim explained.
Challenges
Among the challenges of the business he pointed out, Ephraim said it is still hard to convince people that there can be better paint on the local market compared to the one produced by renown companies.
However, he said that because his paint is a little cheaper, he has won a couple of contracts from different building companies and more recently through friends in the interior designer, painting school classrooms. He said with this recent growth, he makes about Shs1m in profit a month.
For Ephraim, the next step is to purchase standard machines, having a registered paint making company next year and having his presence felt.
Comments
comments