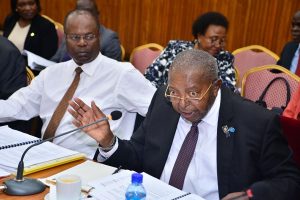 While appearing before the Parliament's Committee on Commissions, Statutory Authorities and State Enterprises (Cosase) on Monday, Bank of Uganda Governor, Tumusiime Mutebile, his deputy Louis Kasekende and Director of Commercial Banks Supervision Tumubweine Twinemanzi failed to provide records explaining how Teefe Bank was closed in 1993.
The committee had during the first hearing demanded that BoU brings documentation in relation to all closed banks-specifically the inventory report, loan schedules, customer deposit schedules, statement of affairs and any reports supporting assets and liabilities relating to customer information but no such information was adduced.
The explanation, according to Tumubweine, was that he "not availed with sufficient information relating to Teefe Bank as the Central Bank's archives had no such records."
"The inventory report was not provided and even in our search, we have been unable to find the inventory report," the Commercial Banks Supervision Director added.
On his part, Mutebile defended the closure of the seven banks as part of the Central Bank's mandate.
"The seven defunct banks in the Auditor General's report were put under resolution largely due to insolvency problems. The decisions and actions of selling the assets of the banks placed under resolution were based on the objectives of protecting the depositor's funds," he said.