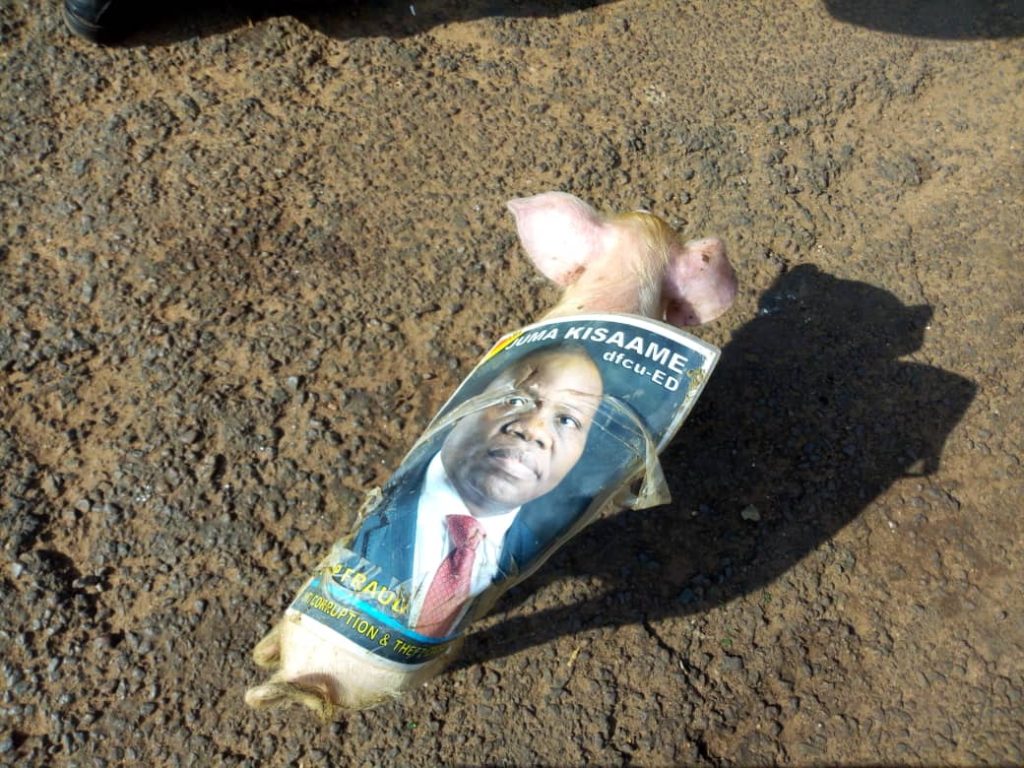 Outgoing DFCU Managing Director Juma Kisaame has been served an ugly farewell after self-professed activists dropped piglets labelled with his name and picture outside Bank of Uganda. The piglets are quite an insult as Kisaame is a practicing Muslim. The activists said they were protesting Kisaame's "corruption" following DFCU's controversial take-over of Crane Bank. Just last month, information leaked that he had $40m on a Bank of Africa account though the Bank distanced itself from the leakages. On the heels of that was an Auditor General's report to Parliament that pointed at irregularities in the DFCU takeover of Crane Bank that pointed at collusion with Central Bank officials. Currently, there is an ongoing probe in Parliament over the closure and takeover of several banks.
Police searching for the piglet droppers.
Meanwhile Police are searching for five people suspected to have dropped the two piglets at the Central Bank. Luke Owoyesigyire the Kampala Metropolitan police spokesman revealed that they received calls from people reporting that the piglets had been dropped by people who took off shortly after. "We are looking for them and they'll be charged with violation of animal rights," he said, adding that the piglets are currently being kept at Central Police Station. This is not the first "piglet protest" as several youths have used them to protest against NRM MPs whom they branded M-Pigs.