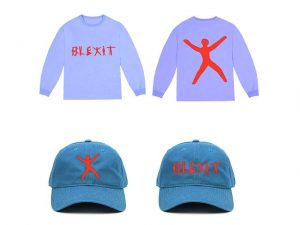 It is hardly two weeks since American multi-billion recording artiste, Kanye West left Uganda where he was finishing his 'Ye' album.
Other than the music, nature and love, Kanye got something else from Uganda – a new logo design that reportedly is calling upon Black Americans to quit the Democratic Party.
The 'Blexit Logo' by Kanye was originally a basic X and the rapper felt that it was missing "the man as a creative force of nature" – something that Uganda gave to the rapper cum fashion designer.

"It's hard to put into words what that level of innovative energy felt like. We were overwhelmed with inspiration as soon as we landed in Uganda," awarding winning designer Candace Owens (a member of Kanye's team to Uganda) told Breitbart.
"That feeling of going back to our homeland, being in Africa — the feeling of family and togetherness that we as a people have moved away from — motivated Kanye and inspired what came to be the Blexit design."
When he returned to the US, Kanye and team decided to revisit the original X logo and recreate it by each drawing a letter that takes on the shape of a human figure.
"The Blexit design reflects the deep-seated humanity and harmony we felt in Uganda. It's that humanity you see in the artwork. The bodies represent us all bending and binding together as a people to bring healing to our communities and real lasting change. That's what this movement represents. That's what was missing from the logo. That's what we found in Africa."