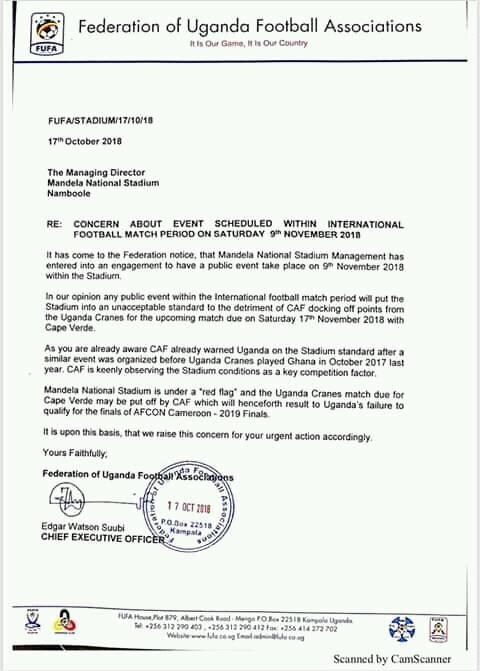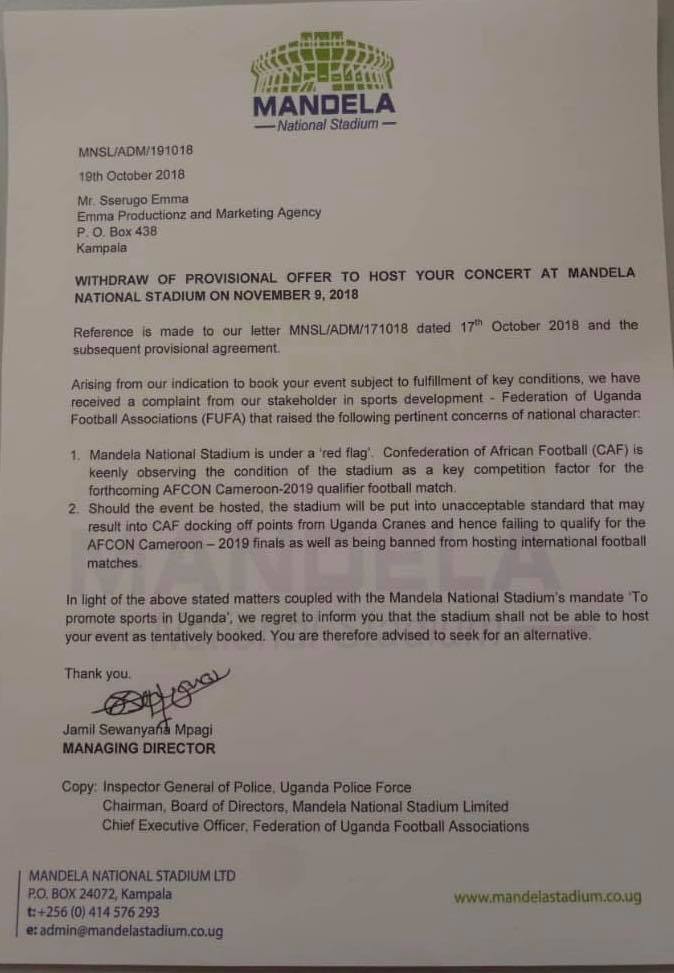 The Management of Namboole National Stadium have ditched the offer to host musician Bobi Wine's much anticipated Kyarenga concert after the Federation of Uganda Football Association (FUFA) raised concerns on the aftermath state of the stadium ahead of the Cranes-Cape Verde tie.
In the letter dated October 17, 2018 – the day Namboole's Managing Director – Jamil Sewanyana entered an agreement with Events Promoter Emma Serugo to host the concert on November 9, FUFA's CEO, Edgar Watson wrote to Sewanyana warning him that Bobi Wine's concert would leave the stadium in an "unacceptable standard" for the Uganda Cranes – Cape Verde AFCON qualification game.
The AFCON qualifier in which Uganda only needs one point to qualify for the second year running is scheduled for November 17.
Watson also noted that the Confederation of African Football (CAF) had already red flagged Namboole Stadium due to its poor state and warned that if the Kyarenga Concert went on as planned, the federation would disqualify the stadium from hosting any future games.
"As you are already aware, CAF already warned Uganda about the stadium standard after a similar event was organized before Uganda Cranes played Ghana in October 2017 last year. The Uganda Cranes match may be put off by CAF which henceforth will result into Uganda failing to qualify for the Finals of AFCON in Cameroon – 2019," part of the letter read.
As a results, Sewanyana wrote to the organizers of the Kyarenga Concert withdrawing the offer to host advising them to find another venue citing FUFA's concerns.
"The Mandela National Stadium's mandate is to promote sports in Uganda. Therefore, we regret to inform you that the stadium shall not be able to host your event as tentatively booked. You are advised to seek an alternative," he wrote.