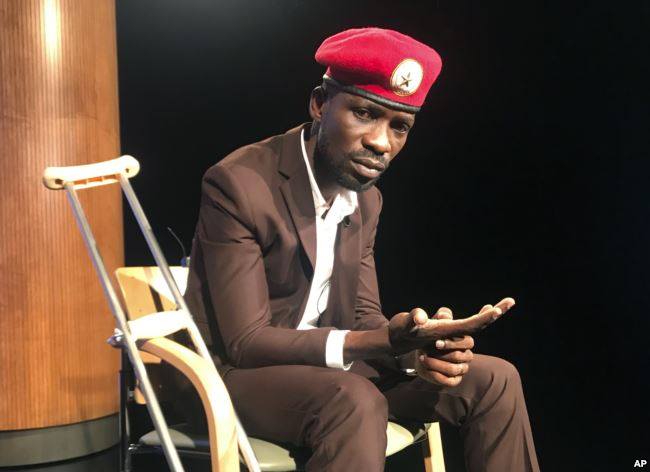 From the ghetto, Robert Kyagulanyi alias Bobi Wine is without a doubt has become an international media sensation.
As Uganda plunged into darkness last night, the Kyadondo East legislator made his second appearance in Straight Talk Africa on Voice of America (VOA) – a show that is hosted by fellow Ugandan, Shaka Ssali.
This was Bobi Wine second appearance on the program and third on an international news television in a space of one week after a highly covered press briefing that was live on CNN, BBC, Aljazeera among other outlets.
Featuring Ambassador Mull Katende Sebujja, Uganda's envoy to Washington, Bobi Wine narrated Uganda's changing face under one ruler, Yoweri Museveni.
"Uganda isn't a kingdom, it's a Republic but our President has been changing faces all this time, the president came to power when I was just four years old," Bobi stated.
"If we were born in a country that had no constitution it would be okay, but we read the constitution that says power belongs to the people."
In defense of the Ugandan government, Amb. Katende said the Ugandan government said that Uganda has systems in place to uphold the rule of law and constitutionalism and faulted opposition politicians for steering violence to win popularity.
"We have rule of law, we have courts, the same courts that granted Bobi Wine bail to be here in the USA. When matters don't favour those who are opposed to govt then they're illegal and wrong, when they favour them, then they're okay," Katende said.
To this, Bobi Wine responded with a quote from the Democratic Party President, Dr. Nobert Mao; "If you are paid to be a fool, your intelligence ceases to matter. I wonder what kind of functioning institutions Amb. Katende is talking about, power resides within the presidency."
Bobi Wine is scheduled to appear on Aljazeera's The Stream programme at 10:30 pm tonight.
Comments
comments